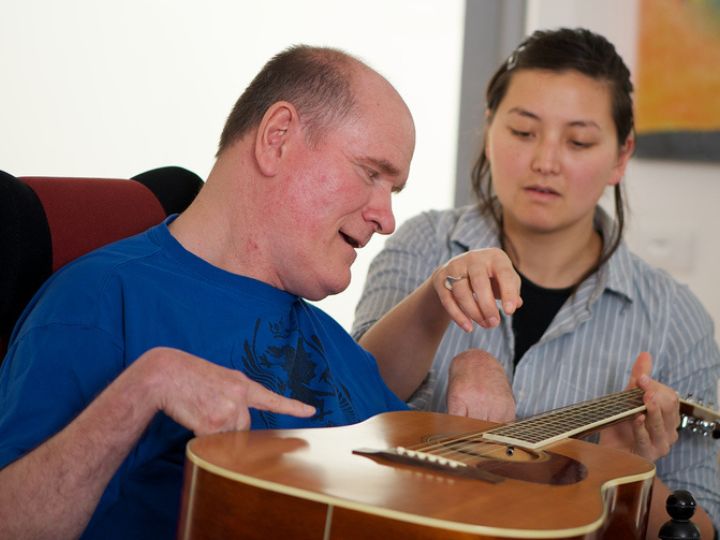 The University of Houston is adding a new degree program focused on the healing power of music. The Bachelor of Music Therapy is a four-year degree program, plus a six-month internship, that will give graduates a foundation in music as well as clinical experiences enabling them to work in a variety of settings including hospitals, school districts, private practice and other capacities.
Music therapy is an allied health profession that utilizes evidence-based, therapeutic music interventions to affect changes in neurological, physiological or psychological health. Research shows using music as a therapeutic tool can promote wellness, manage stress, alleviate pain, enhance memory, help express feelings, improve communication, promote physical rehabilitation and more.
"This innovative new program will combine research and clinical skills to develop leading clinician-researchers and prepare them to define the scientific connections between music and the human experience," said Robert McPherson, interim senior vice president for academic affairs and provost.
Research commissioned by the Kathrine G. McGovern College of the Arts found student demand for a music therapy degree in Texas grew faster than demand for other bachelor's degrees (6.1% to 3.2%). Nationally, demand for a music therapy degree grew more than 11% over the past seven years.
When it comes to job opportunities, Houston employs among the most music therapists in the country. However, demand is outpacing the number graduating from degree programs nationwide. In 2018, there were nearly 10-times as many music therapy-related job postings as music therapy degrees conferred.
"Adding the music therapy degree aligns with our existing strengths in music studies and arts and health. The program will provide students with access to renowned faculty and musical experiences that will serve as a platform for understanding the use of music as a therapeutic tool," said Andrew Davis, dean of the Kathrine G. McGovern College of the Arts.
The new program is projected to start in fall 2023, pending the hiring of a program director. An anonymous $1 million gift helped establish an endowed professorship to support a full-time, tenure-track faculty member who will serve as the program's director, lead research and teach courses. The director will hold a joint appointment in the Kathrine G. McGovern College of the Arts and the Tilman J. Fertitta Family College of Medicine. The gift will have a total impact of $3.5 million with matching funds from the "$100 Million Challenge" and the state of Texas.
"We expect to attract high quality students and faculty, offer clinical services to the community, and expand the use of music therapy as a tool for a variety of health care and social settings," said Steven Block, interim director of the Moores School of Music.
Currently, five other Texas universities offer music therapy degrees, but UH will have a distinct advantage through its collaboration with the Tilman J. Fertitta Family College of Medicine and its proximity to the Texas Medical Center. These relationships ensure the ability to utilize expert clinicians as a part of its teaching workforce and to provide prime opportunities for student internship placements in some of the nation's leading health care institutions.
"The collaboration between the two colleges will benefit both music therapy majors and students of other health care disciplines through the Fertitta Family College of Medicine's commitment to community medicine and to the health and well-being of our population," said Dr. Stephen Spann, founding dean of the Tilman J. Fertitta Family College of Medicine, who noted that after graduation, students may apply for board certification from the American Music Therapy Association.
The new program was approved by the Texas Higher Education Coordinating Board in September, following approval by the UH System Board of Regents in May.
---