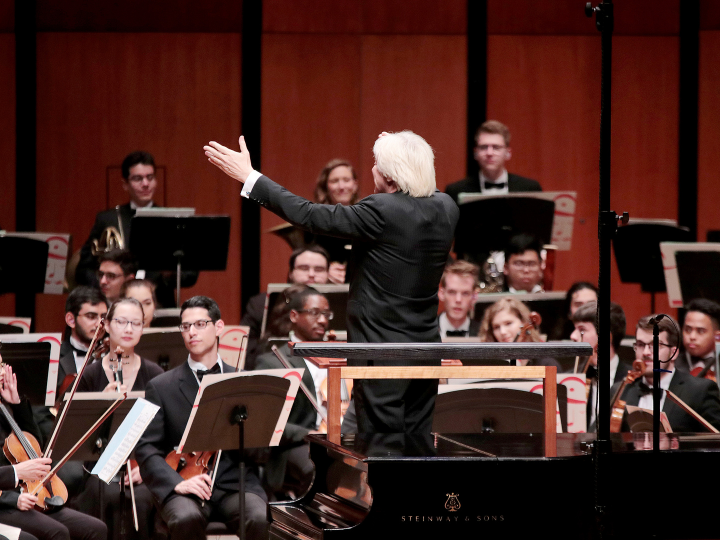 The Immanuel and Helen Olshan Texas Music Festival (TMF), a classical and jazz music festival that takes place at the University of Houston Moores School of Music, returns after a three-year layoff due to the COVID-19 pandemic. The festival features distinguished summer programming, including intensive musical training for aspiring musicians and a summer concert season for Houstonians to enjoy.
Texas Music Festival's 2022 summer concert season runs June 7–26. Highlights include PERSPECTIVES: Faculty Chamber Music Series (June 7, June 14, June 21), performances from the TMF Orchestra Series (June 11, June 18, June 25) and the annual Cynthia Woods Mitchell Young Artist Competition (June 12).
The entire lineup of performances can be viewed here.
On June 7th, the bold, world-renowned Verona Quartet (led by TMF alumnus, Jonathan Ong, 2006) opens the season with works by Beethoven and Gabriela Lena Frank, and will join TMF faculty to perform Mendelssohn's beloved Octet. The opening TMF Orchestra Series concert features Moores School faculty member and concert pianist, Andrew Staupe, as soloist in George Gershwin's lesser known Rhapsody No. 2 for piano and orchestra, all under the direction of Franz Anton Krager.
Houston Symphony conductor laureate, Hans Graf, returns to TMF for an exciting program of music by Janacek and Bartok on June 18th. Another noteworthy addition to the summer programming is the appearance of the internationally-acclaimed Moores School Concert Chorale, under the direction of Betsy Cook Weber, and the American Festival for the Arts High School Orchestra, which is led by Moores School alum, Michelle Perrin Blair, and features music by Houston composer, Mark Buller.
As a part of the robust 2022 summer concert season, Texas Music Festival presents its re(Discovery) Week (June 21-25), which aims to help Houstonians rediscover and celebrate works by prominent Black composers, Samuel Coleridge-Taylor and William Dawson, through performance, discussion and appreciation. As a part of re(Discovery) Week programming, Texas Music Festival will present a panel discussion, pre-concert lecture and concert on June 25th. Paired with music and film, the panel will explore "The Fate of Black Classical Music," by featuring: Joseph Horowitz, guest musicologist and author of Dvorak's Prophecy and the Vexed Fate of Black Classical Music; Anne Lundy, founder of the Scott Joplin Chamber Orchestra; and Lucius R. Wyatt, a retired Prairie View A&M University professor.
At the conclusion of the panel discussion, Houstonians will have the opportunity to listen to William Dawson's Negro Folk Symphony (1934), which has not been performed in Houston for over 30 years, to be conducted by renowned artistic partner, Mei-Ann Chen.
"We are beyond thrilled to bring Texas Music Festival's rich live music scene back into Houstonians' lives," said Alan Austin, general and artistic director of Texas Music Festival. "I think more than anything, this is a celebration that we have made it this far through the COVID-19 pandemic. These last two years have been extremely trying, but I think it's time to take the time to celebrate our resilience with live music."
Texas Music Festival prepares college students, as well as post-graduate students, to develop a variety of skills that will help them pursue future careers in music. The intensive Orchestral Institute is guided by distinguished faculty from the Moores School of Music and Rice University's Shepherd School of Music, principals and members of the Houston Symphony, Houston Grand Opera and Houston Ballet orchestras as well as internationally recognized guest artists.
The festival also features institutes for singers (Vocal Institute: Building Your Craft), a Keyboard Academy and a Jazz Institute for Houston high-school all-stars.
To learn more about Texas Music Festival or to purchase tickets, please click here.
---