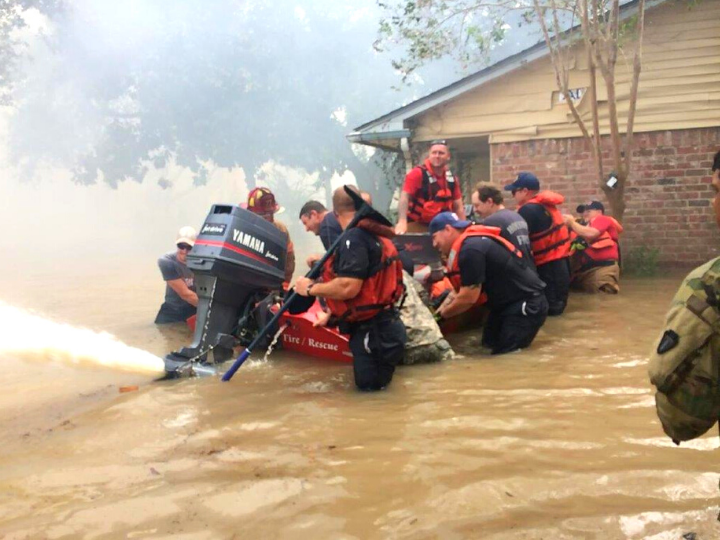 Three and a half years after Hurricane Harvey devastated the greater Houston area, many people are still dealing with its lingering effects. On Tuesday, Jan. 26, the University of Houston Center for Public History is hosting a live, virtual event with a group of survivors, first responders and volunteers who will share their stories from during and after the historic storm. "Resilient Houston: Documenting Hurricane Harvey" begins at 6 p.m. Click here to register. Panelists for the virtual discussion include:
Eric Dowding and Trang Phan areBraeburn residents whose home flooded Memorial Day 2015, Tax Day 2016 and during Harvey. They are still waiting to rebuild. 
James Joseph is a Fifth Ward resident and civic club president who helped rescue neighbors, including senior citizens with medical issues, and assisted them in dealing with the storm's aftermath.
Rabbi Ranon Teller of Congregation Brith Shalom in Bellaire helped Meyerland residents and opened his doors to members of Congregation Beth Yeshurun, which flooded, and gave congregants a place to gather and worship.
Samantha de Leon, a recent UH graduate, participated in all phases of the Resilient Houston project. She conducted interviews and helped create this special edition of "Houston History" magazine.
This event is a culmination of a three-year project by the UH Center for Public History aimed at understanding Harvey's historical significance and the potential impact on Houston's future. Since the project began in fall of 2017, CPH faculty, staff, UH Honors College and public history students collected nearly 100 interviews. They documented their stories online and published them in the center's latest edition of Houston History Magazine. 
"We were so moved by the response and the way people shared their stories with us and the students," said Monica Perales, CPH director and associate professor of history. "There was a beautiful exchange between students and the people they interviewed. Not only did people teach students about Harvey, but they also helped students hone their craft as historians."
WHAT: "Resilient Houston: Documenting Hurricane Harvey" virtual panel discussion
WHO: Hurricane Harvey survivors, responders and volunteers share their experience during and after the storm
WHEN: 6-7:30 p.m., Tuesday, Jan. 26
WHERE: This event is virtual. Click here to receive a link.
The UH Center for Public History's mission is to create collaborative investigative projects with university and community partners to generate both local and global research. These projects prepare future historians help Houston reclaim its past and integrates a sense of history among diverse Houstonians.
---