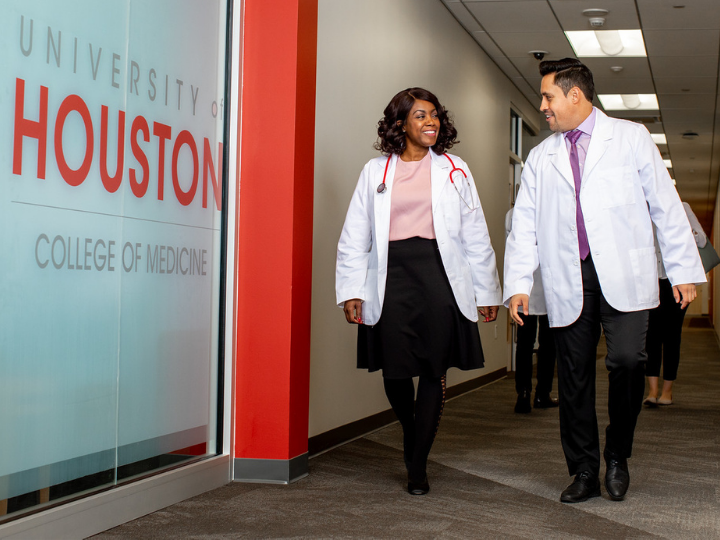 The University of Houston College of Medicine is the newest official member of the Texas Medical Center (TMC) – the largest medical city in the world – following approval by the TMC Board of Directors. As the 63rd member institution, the city of Houston's first new medical school in nearly a half-century will have increased opportunities for collaboration with dozens of hospitals and academic institutions, including four other medical schools.
The University of Houston was named a TMC member institution in 2009 while the UH College of Pharmacy has been a member since 1980. It is a significant milestone for the new College of Medicine, which was founded on a social mission to improve health in underserved communities in Houston and across Texas. The inaugural class of 30 medical students started in fall 2020. 
"We are elated to join the Texas Medical Center as a member institution and look forward to engaging with colleagues at other institutions to advance clinical issues and best practices, and further joint research endeavors," said Dr. Stephen Spann, founding dean of the UH College of Medicine and new member of the TMC Advisory Board. "The tragedy of the COVID-19 pandemic has paradoxically produced an opportunity to address larger issues facing our health care systems, such as health equity. Together with our TMC partners, we can help be part of the solution."
Texas Medical Center – home to some of the most premier medical institutions in the world – sees more than 10 million patients per year, employs more than 106,000 total workers and houses the world's largest children's hospital (Texas Children's Hospital), as well as the world's largest cancer hospital (MD Anderson Cancer Center). TMC member institutions work together to promote the highest standards of patient care, research and education.
Among the other affiliated medical schools are the University of Texas Health Science Center at Houston, Baylor College of Medicine, University of Texas Medical Branch at Galveston and Texas A&M College of Medicine.
"We are excited to welcome the University of Houston College of Medicine to the Texas Medical Center," said William F. McKeon, president & CEO of Texas Medical Center. "The UH College of Medicine's mission of medical education and improving health care outcomes for underserved communities is complementary to the values, mission and goals of the Texas Medical Center, and we look forward to working collaboratively with UH College of Medicine to further benefit the communities that we serve."
To address a critical statewide shortage of primary care doctors, the UH College of Medicine emphasizes primary care, especially in urban and rural communities, which often have poorer health outcomes. Its approach to medical education is rooted in sound clinical training aimed at overall wellness.
Just as the UH medical school embraces the opportunity to collaborate with other TMC member institutions, inter-professional collaboration is at the core of its curriculum. Students work with a variety of professionals – from social workers and nurses, to lawyers and community health workers – to eliminate health disparities in high-priority communities.
 "As a proud alumnus of the University of Houston, I know what great contributions the new UH College of Medicine will make in our community and beyond," said J. Downey Bridgwater, chairman of the TMC Board of Directors. "I am confident that in joining the Texas Medical Center community, the UH College of Medicine will build on both new and existing relationships to further advance health solutions and collaborations that address the complex health care issues of today."  
A new College of Medicine building is currently under construction on the UH campus, slated to open in the summer 2022. The three-story, 130,000-square-foot building will be located on 43-acres and will feature modern classroom and meeting spaces, state-of-the-art anatomy and simulation suites and more.
---