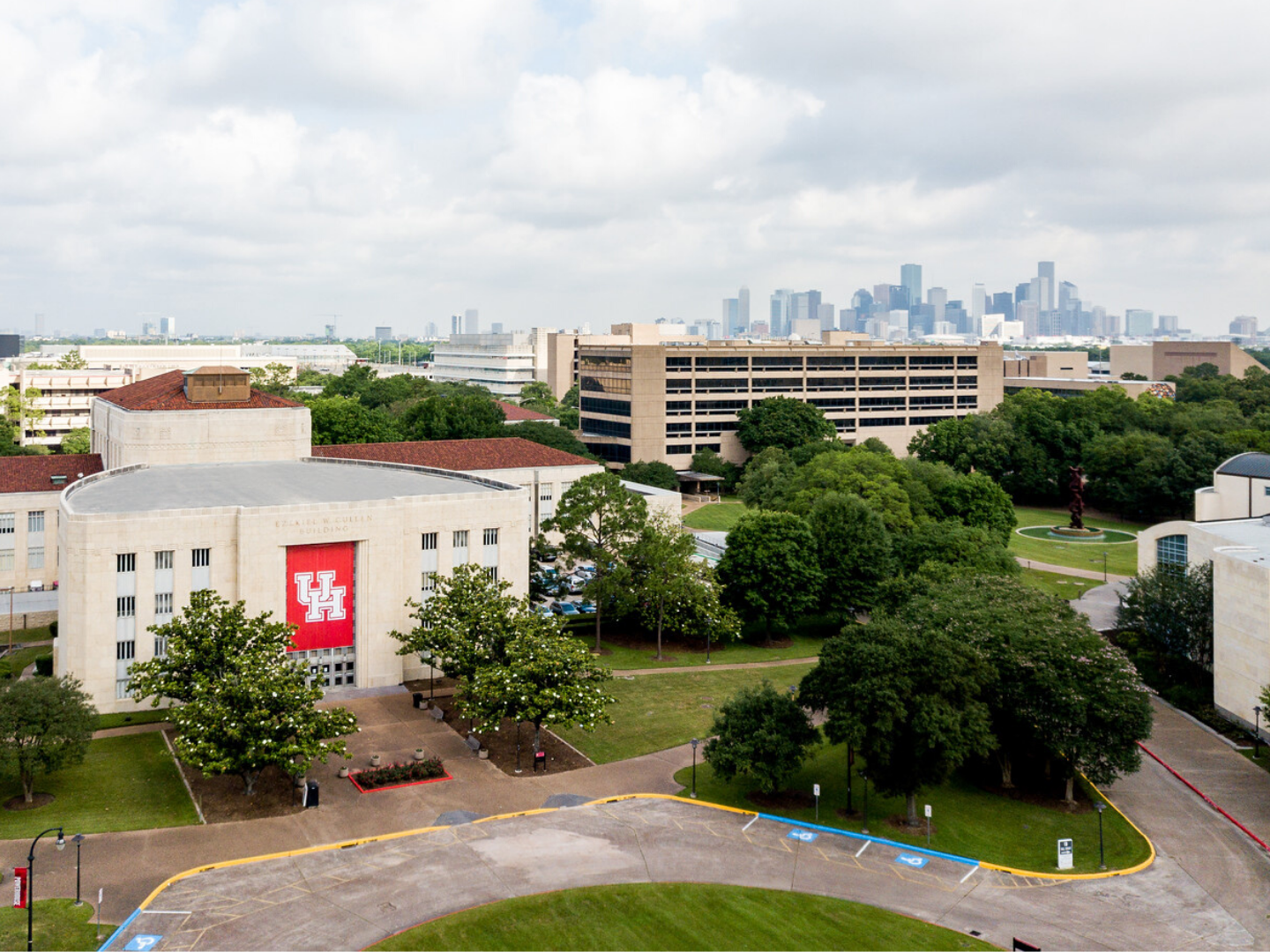 More than $18 million in federal student aid will soon be available to eligible University of Houston students. The funding is part of the CARES Act stimulus package recently passed by Congress and will be distributed to all eligible UH students enrolled during the spring 2020 semester who meet federal qualifications. Students are expected to begin receiving disbursements within the next week.
The aid is designed to help students cover expenses related to disruptions in campus operations caused by the pandemic. UH students have endured increased costs that range from technology needs and internet speeds to accommodate online classes to unexpected deposits and childcare. The CARES Act allows coverage for food, housing, course materials, technology, health care and childcare.  The majority of the CARES Act funding, $15.5 million, will be distributed to all eligible UH students enrolled during the spring 2020 semester who meet the federal qualifications.
"We have been working over the past few weeks to develop a plan for accessing and distributing these funds immediately," said Richard Walker, UH vice president for student affairs and enrollment services. "A vast majority of our students have been significantly impacted. Now we can begin to address those needs as quickly as possible."
CARES ACT
The CARES Act funding level for universities and colleges was based on a formula weighted toward the number of enrolled students who are eligible to receive Pell Grants, the federal student aid program aimed toward those with the greatest financial need.
UH will distribute CARES Act funding in the following manner:
UH is allocating $15.5 million of the CARES Act in blanket distributions as the most expeditious way to meet the large scope of need the University has identified in our community.
Undergraduate and graduate students who meet eligibility requirements will automatically receive between $225 and $825 each, with the amount primarily dependent on full- or part-time enrollment status. Additional grants will be awarded to students economically impacted by changes to on-campus housing.
Students are expected to begin receiving disbursements within the next week. Students who may qualify for CARES Act funds are strongly encouraged to make sure their refund preference is up to date or establish a refund preference if they have never done so to ensure the fastest receipt of these funds.
For CARES Act funding, students must have demonstrated full eligibility to be considered for federal student aid through the receipt of a valid Institutional Student Information Record (ISIR) as a result of completing a Free Application for Federal Student Aid (FAFSA).  Students must also have completed the federal verification process, if selected, and be making satisfactory academic progress for financial aid purposes.
The balance of the CARES Act funding, as well as the Cougar Emergency Fund, will be awarded on a case-by-case basis through a single application process.  Students who are not funded through the blanket distribution model, or funded students whose eligible expenses exceed the initial grant, may submit an application. More information can be found here.
COUGAR EMERGENCY FUND
Coronavirus has disrupted families across socioeconomic spectrums. UH has relaunched the Cougar Emergency Fund, which will cover students not eligible to file a FAFSA and/or expenses not authorized under the CARES Act, as deemed appropriate by the University. This includes costs related to lost wages (i.e., past due utilities, unpaid rent, childcare), emergency housing, connection of utilities, medical expenses, food and technology support (internet costs, increased data, software). Every dollar donated to the Cougar Emergency Fund will be matched dollar-for-dollar, up to $500,000, through a fund sponsored by the UH Foundation and its James Wade Rockwell Endowment.
Students must complete the CARES Act/CEF grant application to be considered for emergency aid from either fund. The application process will be open May 1, 2020 until funds are exhausted.
"The immediate goals of CARES and the Cougar Emergency Fund are to keep our students enrolled and on track to earning their degrees. Impacts from the pandemic have put this in jeopardy for many students," said Walker. "We continue to raise much-needed aid to assist even more of our students facing financial hardship."
SUMMER INCENTIVES
There are a number of incentives for students to continue their studies over the summer. Due to courses being exclusively online for summer sessions, students can take advantage of discounts of mandatory fees and flexible grading options. The goal is to help current students to stay on track, provide incentives for former students in good academic standing to finish their degrees and transfer students to continue their studies while the job market is uncertain. While tuition rates remain unchanged, incentives include:
All mandatory fees are waived for students who take six or more credits, which could save students up to $337.50.
Students taking less than six credit hours only pay for extended access fee, all other mandatory fees are waived.
The interim grading policy allows students to opt for credit without affecting GPA.
Easy enrollment as a visiting student for the summer (degree seeking students who are pursuing a degree at another institution or Cougar Jump Start for new high school graduates still determining where they will attend in the fall).
Financial aid is available for eligible students.
The deadline is May 15 for new degree seeking students who wish to start in the summer and May 27 for visiting students.
INSTITUTIONAL IMPACT
In addition to the impacts to students, UH leaders continue to gauge the financial consequences of the coronavirus pandemic on the institution. Moving instruction online and providing partial refunds on student housing, dining and auxiliary services, as well as uncertain fall enrollment, is expected to result in revenue declines for UH and universities nationwide.  
UH expects to resume face-to-face instruction in the fall.  However, the institution is planning for three scenarios: fully on campus, fully online and some form of hybrid. The determination will be made in late May or early June, depending on the public health conditions in the city.
"Our fiscal year ends at the end of August, so it is difficult to predict the exact loss of revenue for the University," UH president Renu Khator wrote in an email to faculty and staff on Thursday (April 30).
"The final number will depend upon three factors: state budget reduction, summer and fall enrollment, and available federal or state stimulus funds," said Khator, who has appointed a Financial Task Force to review all financial tools at the university's disposal.
"We are preparing for the worst while hoping for the best and always keeping the wellbeing of our Cougar family in mind."
---