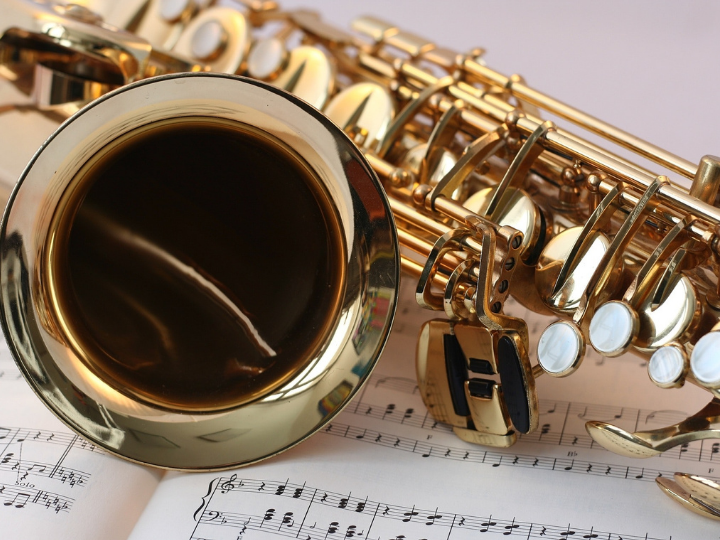 Current students and alumni of the University of Houston Moores School of Music are bringing their talents and holiday cheer to Houston's Third Ward with the launch of  Moores Music in the City, a series of concerts performed by UH students, faculty and alumni in communities and venues across Houston.
A group of saxophonists called the Kazakou Quartet will kick off the program's first live performance with "Saxopotamus: A Musical Story Hour" at 3:30 p.m., Friday, December 11 in partnership with Trinity United Methodist Church, the oldest Black church in the city. This will be a free, outdoor concert in the parking lot across from the church at 2600 Holman St., Houston, 77004. Audiences are encouraged to bring lawn chairs or enjoy the show from their cars but must wear masks and practice social distancing at all times.  
The quartet led by Ellie Parker, a UH doctoral student studying saxophone performance, will play children's stories with a narrator that include "The Three Billy Goats Gruff" and "Saxopotamus," the tale of the invention of the saxophone as told by hippos. Visitors will also hear artists play traditional Christmas songs. With COVID-19 putting a halt on in-person performances in public spaces across the city, Parker hopes audiences will feel moments of normalcy and escapism.
"Maybe they can have 45 minutes away from all the pandemic news and just enjoy seeing people live rather than through a computer or television screen and be engaged for a little while," she said.
Moores Music in the City is about creating opportunities for people to connect with various types of music they may not get to hear on the UH campus or at other performance sites in town.
"It's our effort to meet people where they are – in their communities, especially in the Third Ward," said Courtney Crappell, MSM director and creator of Moores Music in the City. "This is much different than a concert stage in that audiences will have the chance to engage with music making in their community."
Crappell added the performance is a component of the University's Third Ward Initiative, which is a commitment to share and exchange visual and performing arts with the community, celebrate its culture and partner with schools to expose children to music, theater and the arts.
"The Third Ward has a great history of musicianship specifically with making an impact on all types of genres," said Trinity United Methodist Church Reverend Ed Jones. "I believe this event will create an ongoing platform for us to recognize the great ones that have come through the school and also some of the great ones in the community."
"Saxopotamus: A Musical Story Hour" and future Moores Music in the City performances are generously supported by the Puddin's Endowed Moores Music Travel Fund.
---