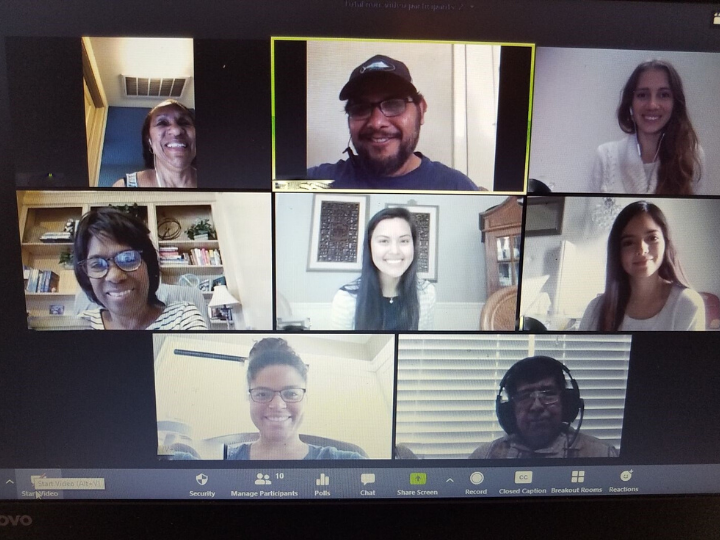 The University-Speech-Language-Hearing Clinic: A United Way agency has expanded the way it treats patients as a result of the coronavirus pandemic. All sessions are now being conducted remotely to adhere to social distancing guidelines. 
The USLHC treats adults and children with a variety of communication impairments including autism, language development delays, aphasia (the loss of language after a stroke or head injury) and fluency disorders, such as stuttering. But it's not just patients impacted by the transition to virtual therapy. Students in the speech-language pathology master's program treat patients as part of their clinical training under the supervision of a licensed, certified clinical educator.
"This is a way for clients to continue to get the therapy they need while students continue to get the education they need," said Margaret Blake, professor and chair of the Department of Communication Sciences and Disorders, which oversees the USLHC.
Stephanie Daniels, a professor who teaches a graduate-level swallowing disorders course, is using telepractice over Zoom and FaceTime to prepare students for what could be the new normal. Daniels plays the role of patient, giving students various case scenarios as they conduct virtual clinical swallowing examinations. In true telehealth practice, a remote speech-language pathologist would conduct the exam on a client with the aid of a trained facilitator, such as a nurse.
"Before COVID-19, students were performing these clinical swallowing examinations on patients at a hospital or in the clinic under the supervision of a clinical educator," explained Daniels, who says the practice sessions give students a safe space to make mistakes and receive feedback before they begin externships.
The students consider this to be a valuable, educational experience, said Daniels, because they still log clinical hours while learning teletherapy best practices. "They will also be more marketable when they graduate," she added.
Clients in the USLHC are also responding well to the transition to virtual meetings, according to clinic director Jane Tragesser. The clinic has 324 online sessions scheduled through May. With the emergence of telehealth during this crisis, she sees an opportunity for the USLHC to possibly extend services to people who don't have convenient access to the facility.
"I think there is a market that we have not tapped into yet," Tragesser said. "This is a service delivery model we need to continue exploring."
---