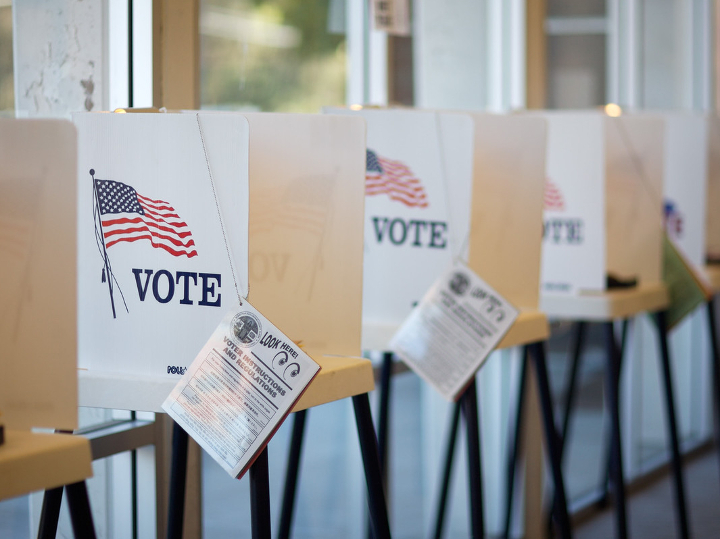 The 2020 presidential campaign has again raised the question of whether, and when, Democrats will become competitive in Texas, a reliably red state in recent decades. A new poll by the Center for Mexican American Studies at the University of Houston (CMAS) and Univision found that 47% of registered voters in the state favor a Democratic candidate versus 42% who say they will vote for President Donald Trump.
Among Latino registered voters this gap increases to a 4-to-1 margin over President Trump.
The CMAS-Univision Poll found that ahead of the 2020 presidential election, 70% of Latino registered voters said they are almost certain to vote in the 2020 election; that compares to 72% of Texas registered voters as a whole.
Voting intention varied by age, with the oldest registered voters most likely to say they will definitely vote in the next presidential election. Just 58% of the youngest voters, those aged 18-29, say they are certain to vote, rising to 69% for voters 30-49 and 82% for registered voters 50 and older.
But younger voters are likely to be key.
"The future of the state will be politically determined by Latino Gen Z and millennials, making their opinions about politics critical to understanding the changes in Texas over the next several decades," said Jeronimo Cortina, associate professor of political science and associate director of the Center for Mexican-American Studies.
Gun Control on Top of Voters' Minds
Among those registered to vote, 86% say Congress should pass a law expanding background checks to all gun sales and transfers. That includes 72% of Republicans. Support was even higher for so-called red flag laws, with 81% saying that Congress should pass such laws allowing law enforcement to temporarily remove guns from those deemed to pose an imminent danger to themselves or others. Support for those measures drew support from 72% of Republican registered voters.
"Texans overall agree that background checks should be conducted on all gun sales, support red flag laws to help law enforcement temporarily remove guns from individuals who pose a danger to themselves or others, and favor a ban on assault weapons." said Brandon Rottinghaus, professor of political science, who conducted the poll with Cortina and fellow UH political scientist Jason Casellas. "Women and Latinos are more likely to approve of such restrictions, both key demographics to winning Texas in 2020."
Of the 1,004 registered voters sampled for the poll, 68% said Congress should ban the sale of assault weapons like the AR-15 rifle, while 76% said white supremacist groups pose a threat to the United States today. When asked about the mass shooting at an El Paso Walmart on Aug. 3, Texas registered voters indicated that the lack of effective treatment for mental illness (42%) and the sale of assault and military-style firearms (39%) were the top factors contributing to the shooting, followed by the rise of white supremacy and white nationalism (37%), and the language used by President Trump in speeches and on Twitter (35%).
"Texans want Congress and the state Legislature to do something about preventing mass shootings, which is why state leaders have already signaled a willingness to expand background checks and make sure that people who shouldn't have weapons are prevented from purchasing them," Casellas said.
For more of the poll's findings: https://www.uh.edu/class/cmas/publications/poll
Methodology
Methodology: On behalf of Univision News, Latino Decisions partnered with NorthStar Opinion to implement a national survey of Latino registered voters (n=1,043 +/- 3.0%). In addition, an oversample of n=500 Texas Latino registered voters were surveyed and combined with Texas Latinos in the national sample for a total of n=641 Texas Latinos (+/- 3.9%). Finally, a sample of non-Latino Texans (n=504) was implemented and combined with the Texas Latino sample (n=500) for a total Texas statewide sample of n=1,004 (+/- 3.1%). The two Texas components were in partnership with the Center for Mexican American Studies at the University of Houston. Field dates were Aug 31 – Sep 6, 2019. Respondents were all randomly selected from the vote file and given the opportunity to complete the survey via telephone (cell or landline) or to self-complete the survey via email invitation on their phone or computer. All respondents were confirmed to be registered voters and matched against the voter file (TargetSmart). The survey was available in English or Spanish at the discretion of each respondent at point of contact; both phone and email invitations were available in either English or Spanish. Once data collection was complete post-stratification weights were added to ensure that the final sample matched the best known estimates for registered voters from the Census CPS for state, age, gender, education and nativity. For Texas the statewide sample was weighted to match the racial/ethnic demographics of the state (Anglo 53%; Hispanic 33%; black 11%; other 3%). The survey was developed by Dr. Sergio Garcia-Rios, director of polling at Univision, in consultation with Latino Decisions and NorthStar Opinion, and UH Professor Jeronimo Cortina.
---