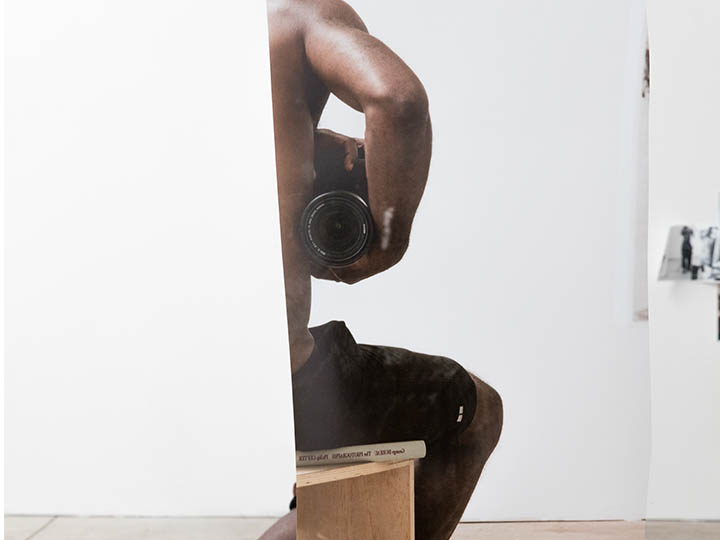 Works by Jacqueline Nova, a pioneer in electroacoustic music and Paul Mpagi Sepuya, a globally acclaimed photographic artist, will be on view at the University of Houston's Blaffer Art Museum (Fine Arts Building, 4173 Elgin Street, Room 120). Both exhibitions will debut with a reception from 5-8 p.m., Saturday, Oct. 19 and are free and open to the public.
"Paul Mpagi Sepuya" will be on view through Saturday, March 14, 2020. This exhibition is the first major museum survey of the Los Angeles-based Sepuya. He makes photographs of friends, artists, collaborators and himself that deconstruct traditional portraiture through layering, fragmentation and mirror imagery. The artist's work has been shown in the Whitney Museum of American Art's "Whitney Biennial," Museum of Modern Art, Solomon R. Guggenheim Museum, J. Paul Getty Museum and Walker Art Center. This presentation, originally organized by the Contemporary Art Museum St. Louis, will be the largest installation of Sepuya's work to date. Sepuya will attend the Oct. 19 show opening.
"Jacqueline Nova: Creación de la Tierra" will be on view through Saturday, January 4, 2020. Nova (1935-1975) was one of Latin America's most important avant-garde and experimental musicians and cultural organizers of the 20th Nova's life and art was informed by political turmoil, battles for women's suffrage and systems of colonial classification in her home nation of Colombia. "Creación De La Tierra" is the first known installation or exhibition of the late Colombian composer's sound artwork in a United States art museum.
The Blaffer will celebrate the Oct. 19 opening of Sepuya and Nova's work with a series of performances orchestrated by Houston-based artist-curators Michael Stevenson and J. Bilhan. According to Steven Matijcio, Blaffer's Jane Dale Owen Director & Chief Curator, these presentations mark the start of a new chapter of the museum's overall program and a reinvigorated engagement with the UH community and the city of Houston.
"The opening event speaks to a new emphasis on performative and participatory activity, infusing the museum with dynamic conversation between artists, audience and disciplines," Matijcio said. "Moving forward, we will herald artists and exhibitions that take apart traditional forms and reassemble them into provocative new constellations."
---