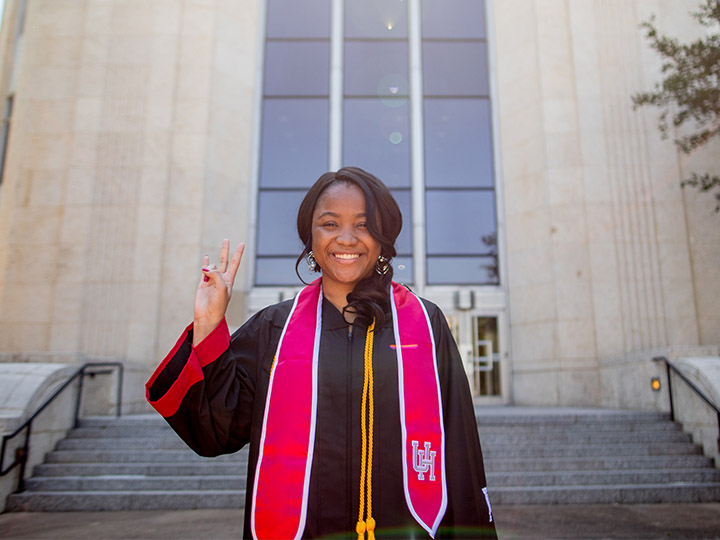 The University of Houston is celebrating the graduation of more than 6,100 Cougars Wednesday, May 8-Saturday, May 11. Commencement ceremonies will occur at various locations on the UH campus as well as venues in the surrounding area, but most will take place in the Fertitta Center. The Fertitta Center opened in December 2018 and this marks the first time UH commencement ceremonies will be held there. Ceremonies will also be live streamed for individuals who can't attend.
UH University Commencement Numbers
The University is expected to confer an estimated 6,377 degrees this spring and summer, bringing the total to more than 9,890 for the 2018-19 academic year.
Spring and Summer 2019:
4,635 bachelor's degrees
1,130 master's degrees
193 doctoral degrees
419 professional degrees
Here are a few of the people and programs being celebrated during spring 2019 University Commencement.
Teach Forward Houston Graduates Fellows from Cohort One
The Teach Forward Houston program in the College of Education will be celebrating the graduation of two fellows from cohort one. Vanessa Trejo and Andrew Slack will graduate Thursday, May 9 with their Bachelor of Science degrees in teaching and learning. 
Teach Forward Houston began in fall 2016 as a "grow your own" initiative between the College of Education and Houston Independent School District. HISD graduating seniors get the opportunity to pursue a degree at UH with tuition support from HISD. After completing the program and graduating with a teacher certification, fellows will be hired back into HISD schools fully prepared in curriculum, classroom management and the essential skills to be an effective classroom teacher.
Youngest Graduate's Passion for Helping Underserved Inspired by Family
Jerosh Jacob's desire to help families in low-income, underserved communities get proper medical care came from witnessing what is happening in his own family.
"Many of my cousins who came here from India need medical treatment, but often find that difficult because of the high costs," said 18-year-old Jacob, who is the youngest graduate this spring.
He will receive a Bachelor of Science in health and a minor in biology and is already making a difference. Jacob works as an intern at Ibn Sina Wilcrest Community Medical Center, a low-cost primary care clinic in Southwest Houston. He helps organize health fairs that inform the public about the services the clinic provides, including disease awareness and prevention. After graduation, Jacob will continue to work at the clinic. He plans to get his Master of Public Health degree or go to medical school to become primary care physician or orthopedist.
Gerald D. Hines College of Architecture Graduates First Deaf Student
The University of Houston Gerald D. Hines College of Architecture and Design will celebrate something extraordinary at its graduation on Friday, May 10. The college will recognize Shoaib Nizami as its first graduating deaf student. Charting new territory for the Hines College, Nizami has overcome many adversities in his journey to be an architect. 
The Hobby School of Public Affairs Graduates First Class
The Hobby School of Public Affairs will hold its first commencement ceremony since becoming an independent school in 2016. The ceremony is at 9 a.m., Saturday, May 11 at the University of Houston Hilton. It will award 14 master's degrees in public policy. Nine of the graduates are members of the Phi Alpha Alpha Honor Society for public affairs and administration. State Rep. Garnet Coleman, D-Houston, will give the commencement address.
UH to Present Honorary Degree to Cyvia G. Wolff
Cyvia G. Wolff will receive an honorary doctoral degree. Cyvia and her late husband, Melvyn ('53), made a generous gift to the C.T. Bauer College of Business in 2008 to establish the Cyvia and Melvyn Wolff Center for Entrepreneurship (WCE). That legacy has contributed to the WCE being ranked among the top 10 programs of its kind in the nation since its inception. This year WCE is ranked number two. UH will present Wolff with the degree of Doctor of Humane Letters, honoris causa.
President's Medallion recipient: HCA Healthcare, Inc.
The 2019 President's Medallion is being awarded to HCA Healthcare Inc. Founded in 1968, HCA Healthcare Inc. is one of the nation's largest operators of health care facilities. HCA Houston Healthcare, a division of HCA Healthcare Inc., recently entered into a partnership with the UH College of Medicine and the UH College of Nursing to improve health care in the state and region.
---