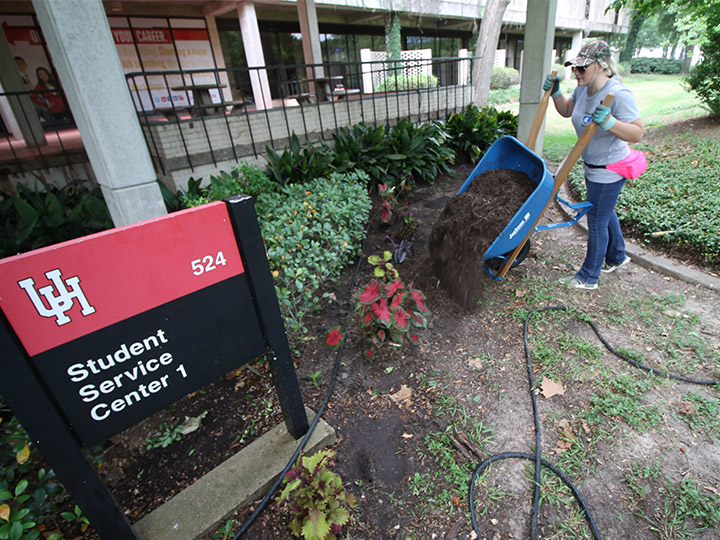 Jean Dala is all about giving back and paying it forward. So, when the opportunity arose for the University of Houston alumnus to return to his alma mater to participate in his company's volunteer service project, he immediately signed up. 
"This is the school that provided me the job I have today," said Dala, a 2017 graduate of the C.T. Bauer College of Business who works as an IT auditor at Calpine Corporation, a Houston-based power company. "This would have never been possible without UH."
Dala was among a group of Calpine employees, including three UH alumni, that jumped at the chance to beautify the entrance and surrounding area of Service Building 1­– home of University Career Services. Calpine volunteers recently trimmed the hedges, planted new vegetation, dug up weeds and cleaned debris. The Calpine in Our Communities project was second nature for Dala, who ran his own pool and lawn service company to pay his way through college.
"We hope people who walk by this building will stop and notice its curb appeal and be curious enough to see what's inside," explained Dala who attended a UCS-sponsored career fair when he was a student. "Our intent is to make sure more people are aware of what this building can provide for students."
The UCS team connects students and alumni to resources that help them reach their career goals. Those services include one-on-one career counseling, skills workshops, on-campus recruiting and resume critiques.
"The staff is professional, friendly and approachable, and we want to convey this same warmth from the outside of our building to welcome students and employers to our office," said Monica Thompson, UCS executive director. "We believe this community service project will help us accomplish this."
Jay Qatato, volunteer lead and senior director of Internal Audit at Calpine, came up with the idea to spruce up the outside area of Service Building 1 after a visit to UH to recruit interns. He asked several people to help him find University Career Services and no one knew where it was.
"In real estate, it's about location, location, location. For these hard-working UH students, it's about jobs, jobs, jobs," Qatato said. "University Career Services is where students and employers make the magic happen. Being a part of that experience is why we are here."
A  handful of companies made in-kind donations to the service project. Lowe's provided more than $500 in plants and flowers, Dirt Cheap Mulch Co. and Living Earth supplied mulch, Sherwin-Williams contributed paint for the railings, and Fastenal donated the gardening tools. UH Facilities Services staff assisted  with power washing and clean up.
---