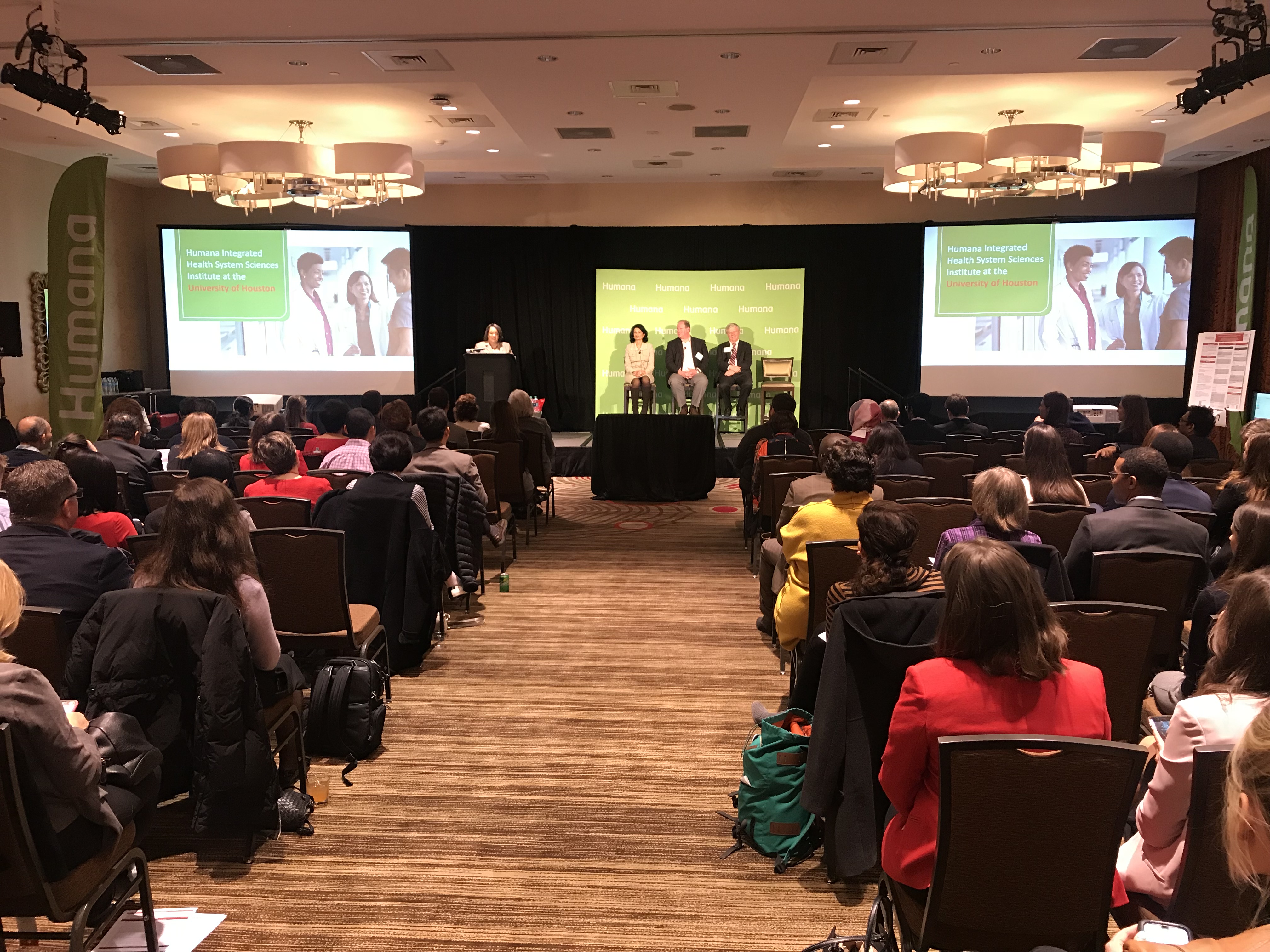 Humana and the University of Houston recently teamed up to officially launch the new Humana Integrated Health System Sciences Institute at the University of Houston.
The Humana Institute is designed to unite the existing UH colleges of nursing, pharmacy, social work and optometry with the university's new College of Medicine. Humana previously announced how its $15 million gift will help defray start-up and operational costs for the College of Medicine, as well as fund endowed chairs for each of the five health colleges.
"Health care isn't a solo sport, it's a team sport. An integrated team approach where doctors, nurses, pharmacists, social workers and more are all working together for the patient will increase the value of health care. We must also address major health disparities that exist today while recognizing the importance of social determinants of health," said Dr. Stephen Spann, vice president for medical affairs and founding dean of UH College of Medicine.
Dr. Roy Beveridge, Humana's chief medical officer, addressed the importance of moving from a fee-for-serve reimbursement model to a value-based reimbursement model. "The payment model for all government reimbursement is going to an outcome-based, quality-based set of metrics. As we move to this world of paying for outcomes, then everything (social determinants of health such as food insecurity, social isolation and loneliness) that Dr. Spann just talked about is an imperative. If you are reimbursing for outcomes but thinking in a fee-for-service mentality, you lose efficiency and don't bring the quality of care that each one of these patients deserves."
UH-Humana: a strategic partnership
Launching the Humana Integrated Health System Sciences Institute at the University of Houston marks a critical milestone in the strategic relationship between UH and Humana. The new institute is structured with five Humana endowed chairs in UH's five health professions colleges to partner with Humana on cutting-edge projects that will have a measurable impact on health education and population health.
"This partnership is truly a part of our vision. If we can positively impact health care in Houston, we can scale up and do so elsewhere," said Worthe Holt, MD, vice president in Humana's Office of the Chief Medical Officer. "We're going to implement a very innovative approach and train a whole new generation of health care providers who can take this body of knowledge and make a difference in the health of our nation."
Driving integrated care
At the Humana Institute's launch event, Dr. Spann spoke to how the new school will address the challenges of medication non-adherence and the high costs associated with it. He also cited the importance of taking learnings to the next level and Humana's "state-of-the-art approach to primary care" that can be leveraged to improve quality of life and health care outcomes. Representatives from both organizations also emphasized how data transparency and interoperability will be critical areas of development, as well as how technology can drive preventive medicine.
Dr. Holt envisions the partnership will help prepare students to operate in an integrated care model: "So whether it's a doctor, nurse, optometrist, pharmacist or social worker, we would like to see all of them leverage their expertise to change the way we deliver health care and achieving better outcomes in a more equitable fashion as well as a more cost-efficient fashion. In a value-based model, when it's done correctly, you can improve health, cost and quality. Responsibility, accountability and opportunity will help change the health of our communities for the underserved and the disadvantaged and those who depend on federal programs." 
This article has been edited for length. Source: HumanaNews.com
---