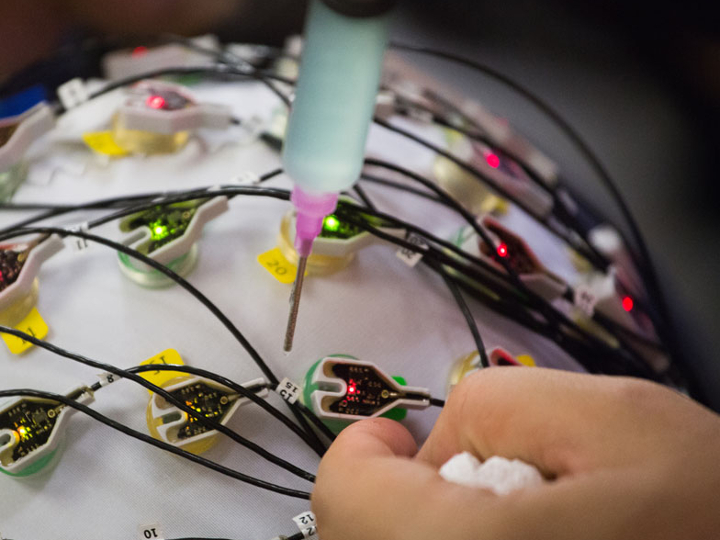 Wine has been around for millennia. Now engineers and wine experts at the University of Houston are teaming up to better understand how aroma, taste, color and other factors contribute to the experience of drinking wine.
Researchers will collect data on brain waves, motion and galvanic responses as wine experts from the UH Conrad N. Hilton College of Hotel and Restaurant Management conduct a wine tasting at 2 p.m. Friday, Jan. 18, at the Hilton University of Houston.
A second event, set for Saturday, Jan. 19, will focus on acting, as engineers and theater experts at the Cullen College of Engineering and the Kathrine G. McGovern College of the Arts at UH and the Zurich University of the Arts team up to investigate the neural basis of the art of acting, working with guest film director Manuel Hendry.
The "Your Brain on Acting" performance will be at 4 p.m. Saturday, Jan. 19, on the UH campus. Both events are free and open to the public, and both will include a Q&A with the audience.
They are part of a project launched several years ago by Jose Luis Contreras-Vidal, professor of electrical and computer engineering, to better understand what happens in the brain as people participate in the arts and other creative endeavors. He has worked with visual artists, musicians, dancers and others, collecting brain data in an effort to decode how the brain reacts to creative and other stimuli.
Both events are sponsored by the BRAIN Center (Building Reliable Advances and Innovations in Neurotechnology), an industry-academic partnership focused on developing new neurotechnologies. Contreras-Vidal is co-director of the center.
The details:
Your Brain on Wine will begin at 2 p.m. Friday in the Spec's Wine Lab in the Hilton UH. Map
It is a collaboration between Contreras-Vidal, members of his lab and Christopher Taylor, director of the beverage management program and Fred Parks Wine Cellar at Hilton College, and Ki-Joon Back, associate dean for research and graduate studies at the Hilton College.
Your Brain on Acting begins at 4 p.m. Saturday in the Quintero Theater in the Cynthia Woods Mitchell Center for the Arts. Parents are warned that the program, a scene from the stage play "Closer" by British playwright Patrick Marber, contains coarse language and sexual situations. Map
 The rehearsal and performance, directed by Adam Noble, associate professor in the School of Theatre & Dance, will be filmed, and the brainwaves, heart rate and skin conductance of all participants will be recorded to help determine how basic acting exercises, rehearsal and performance relate to specific neurological patterns.
---