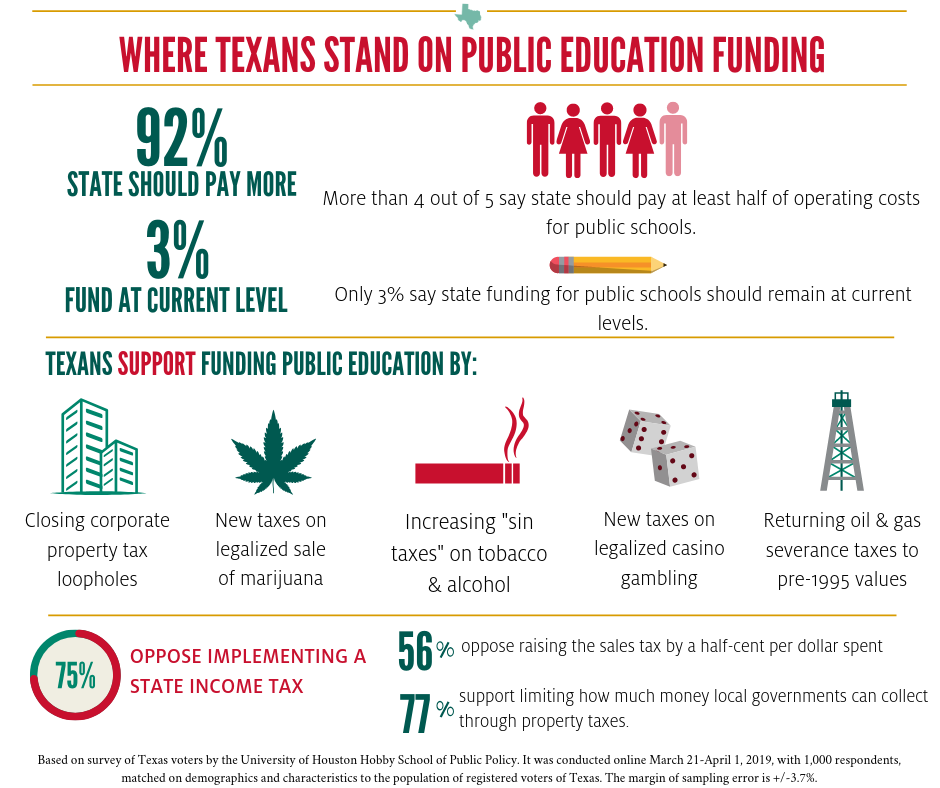 A survey of Texas voters by the University of Houston Hobby School of Public Affairs found strong support for increasing the state's share of funding for public schools, along with support for increasing several targeted taxes to pay for it. That included 62% who said they favor legalizing and taxing marijuana for recreational use.
But more than two-thirds of respondents also said they consider property taxes in Texas to be high – almost one-third said they are "very high" – and more than 75% support limiting how much money local governments can collect through property taxes.
The survey also suggests voters may not support a plan announced by state leaders to raise the state sales tax by 1% in order to reduce property taxes; 56% opposed raising the tax by a half-cent per dollar spent. Moreover, Texas voters expressed strong opposition to extending the sales tax to grocery sales and non-prescription medicines.
"Voters are really thinking hard about what type of Texas we want in the future," said Jim Granato, executive director of the Hobby School. "People want to invest in a higher quality public education system, but their thoughts and responses suggest a pragmatic approach on how to pay for it.  They are looking at things that cause the least disruption for all."
The state's top elected officials have labeled school finance a priority, and the House approved a bill earlier this month that would increase base funding for each student, provide across-the-board raises for most full-time school employees and lower school tax rates. Deliberations on property tax proposals are continuing.
Among the survey findings:
More than four out of five Texans say the state should pay a substantially higher percentage of operating costs for public schools. It currently funds 36% of those costs; 40% of voters say the state should cover more than half of operating costs, while 41% said it should provide at least 50%
Only 7.5% say state funding should remain at or below current levels
Voters support expanding early childhood education
More than three-fourths support capping the revenue cities, counties, school districts and other entities can collect
Voters support raising salaries for classroom teachers and librarians but rate Texas public schools as only average. They rated their local school districts somewhat higher, with almost half saying their local school does a good or very good job
"Voters strongly support the state spending more money on public schools, even though they are clearly concerned about property taxes," said Mark Jones, a research associate at the Hobby School and a political science professor at Rice University. "Despite that concern, we did find fairly strong support for a number of revenue-enhancing proposals, especially for raising so-called 'sin' taxes."
Respondents support closing loopholes that allow corporations to avoid paying taxes on the fair market value of their property, returning oil and gas severance taxes to their higher pre-1995 values and increasing taxes on cigarettes and other tobacco products, along with those on wine, beer and other alcohol products.
There also was support for creating new taxes on legalized casino gambling and the legalized sale of marijuana for recreational use.
Three-fourths of voters oppose a state income tax, and a majority also oppose increasing the state sales tax and imposing a 1% tax on groceries and non-prescription drugs, which are currently exempt.
Pablo M. Pinto, associate professor at the Hobby School and director of the Center for Public Policy, noted strong support for early childhood education, increasing funding in districts which serve more low-income students, and granting teachers a $5,000 raise.
"Almost two-thirds of Texas voters said increased spending for early childhood education should be a high or very high priority, and an even higher percentage said the state should send more money to school districts with more low-income students," Pinto said. "On the other hand, bilingual education is a lower priority."
The full survey is available at the Hobby School website. It was conducted online March 21-April 1, 2019, with 1,000 respondents, matched on demographics and characteristics to the population of registered voters of Texas. The margin of sampling error is +/-3.7%.
---