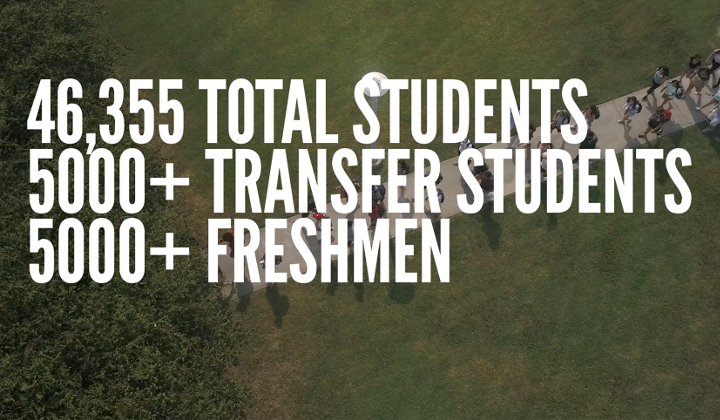 The University of Houston has once again eclipsed its previous enrollment record, with a headcount of 46,355 students for fall 2018, an increase of 2 percent over last fall. Preliminary enrollment figures were tallied following the 12th day of classes, which was Sept. 5.
Enrollment figures must undergo a certification process and will not be official until November.
It's the fifth consecutive year the student population has grown at UH. It also marks the first time in recent history the freshman class has outnumbered incoming transfer students.
 "Our sustained growth is a testament to the hard work of not only the students, but also faculty and staff that truly embrace what it means to be a Cougar," said UH President Renu Khator. "Our students make the University of Houston a special place to learn, grow and achieve. It's my hope that their time on campus gives them the tools and confidence to accomplish anything they dream."
CLASS OF 2022
First time college students, or true freshmen, accounted for more than 5,000 students for the first time in University history, an increase of nearly 5 percent over last fall.  Freshman applications were also at an all-time high. Out of more than 51,000 applicants for fall, nearly 29,000 were freshmen.
The class of 2022 is also highly competitive, with higher average SAT and ACT scores than last year's freshman class.
STUDENT TRENDS
Post baccalaureate students—those earning a second bachelor's degree— accounted for the biggest growth by percentage. Enrollment of post baccalaureate students increased 7 percent. The number of doctoral students grew by more than 6 percent. The only groups that saw a decline in enrollment compared with last fall were masters and special professional programs. The number of students seeking master's degrees fell by fewer than 100 students, while special professional programs declined by fewer than 60 students.
TRENDS AT THE COLLEGE LEVEL
Among UH's 15 colleges, the College of Liberal Arts and Social Sciences remains the largest, with more than 11,700 students, followed by the Bauer College of Business (6,500+), the College of Technology (6,500+) and the College of Natural Sciences & Mathematics (6,000+).
The College of Nursing has the highest year-over-year growth, with enrollment increasing by more than 14 percent over last fall. The College of Education increased enrollment by more than 10 percent.
---