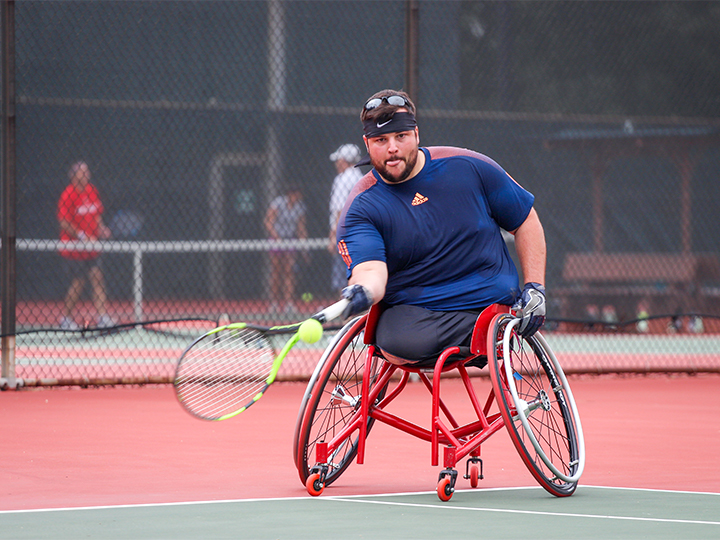 UH Adaptive Athletics is hosting its 3rd annual UH Cougar Open Wheelchair Tennis Tournament Oct. 19-21 at the Memorial Park Tennis Center, 1500 W. Memorial Loop Drive. The Cougar Open, sanctioned by the United States Tennis Association, is the largest wheelchair tennis tournament in Texas, drawing players from around the nation.
The event is sponsored by the One Step Closer Foundation, a nonprofit that aims to positively impact the lives of those who suffer from cerebral palsy. Adaptive athletics are generally seen as a way for wheelchair-bound students to get a step closer to their goals.
"The two most important factors impacting the success of a person with a disability getting employed are education and participation in sports," said Michael Cottingham, director of Adaptive Athletics at UH and associate professor in the Department of Health and Human Performance. "So we combine both those factors and you go from roughly an 18 percent employment rate to employment rates in the high 60s," said Cottingham, who attended college on the first-ever wheelchair tennis scholarship and was once ranked globally as a wheelchair tennis player.
Wheelchair tennis has been part of the Paralympics since 1992, but was first seen in Seoul in 1988 as a test event. It is now one of the fastest growing wheelchair sports in the world and fits seamlessly with the able-bodied game, with few modifications. No changes to the size of the court, rackets or tennis balls are made. There are two primary differences - the specially designed wheelchairs and the 'two-bounce rule,' allowing the ball to bounce twice.
"The UH Cougar Open Wheelchair Tennis Tournament is about providing individuals with disabilities an opportunity to participate in competitive sport, but it's also about community," said Samantha Kwan, associate professor of sociology and director of the event. "The tournament brings together athletes with disabilities, UH faculty and students, Houston businesses and community volunteers. Together, we make the tournament a success."
What:           2018 Cougar Open Wheelchair Tennis Tournament, presented by the One Step Closer Foundation
Who:            Adaptive Athletics at the University of Houston
When:          Friday-Sunday, Oct. 19-21, 9 a.m. – 5 p.m.
Where:         Memorial Park Tennis Center, 1500 Memorial Loop Houston, TX 77007
---