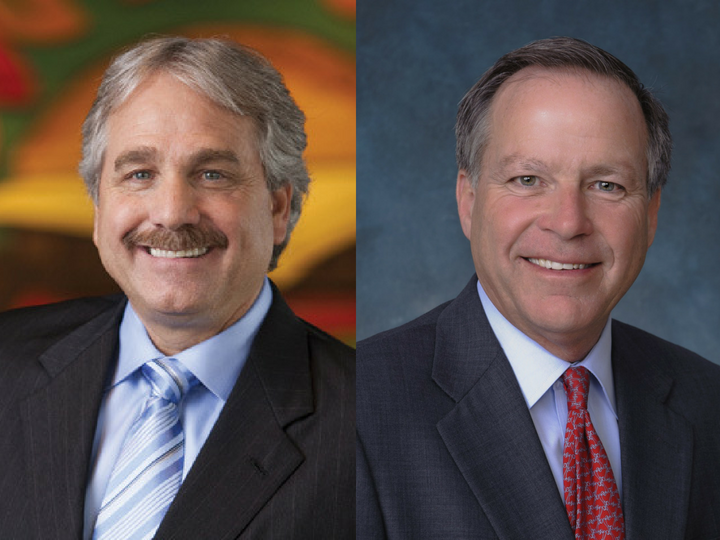 Gov. Greg Abbott has appointed two new members to the UH System Board of Regents. Doug Brooks and Jack Moore will each serve a six-year term on the UH System's governing body. The terms of regents Spencer Armour, III, Roger F. Welder and Welcome W. Wilson, Jr. expired last fall. One position on the board will remain open until the Governor makes an additional appointment.
"I could not be more pleased with Governor Abbott's thoughtful approach to the leadership of the University of Houston System," said Renu Khator, chancellor of the UH System. "Each appointee has shown great dedication to the success of UH throughout their careers and I am excited about how they will work to move all of our universities forward."
Restaurateur Doug Brooks is the retired chairman, president and CEO of Brinker International, one of the world's leading casual dining restaurant companies. Brinker's portfolio includes Chili's Grill & Bar and Maggiano's Little Italy.
Brooks is the first Hilton College of Hotel and Restaurant Management alumnus to be inducted into the college's Hospitality Industry Hall of Honor. Under Brooks' leadership, Brinker International won numerous industry honors including being named one of the World's Most Admired Food Services Companies by Fortune magazine.
Businessman Jack Moore is the former chairman and chief executive officer for Cameron International Corporation. Prior to joining Cameron, Moore held various management positions with Baker Hughes Incorporated where he was employed for 23 years.
Moore holds a B.B.A. degree from the University of Houston and is a graduate of the advanced management program at Harvard Business School. He is a current member of the UH Board of Visitors and the group's former chairman.
"These men have achieved success with the knowledge they gained from the University of Houston and they are passionate about giving back. What an opportunity this is for all our universities in the UH System," said Tilman Fertitta, chairman of the UHS Board of Regents.
In a related matter, Gov. Abbott has appointed former Regent Wilson, Jr. to serve on the Texas Higher Education Coordinating Board.
The UHS Board of Regents is composed of nine members and a student regent. Every two years, the governor of the State of Texas, subject to Senate confirmation, appoints three members to the Board of Regents. Each regular member serves a six-year term. Non-voting student regents serve one-year terms.
The Board represents the four UH System universities: University of Houston, University of Houston-Clear Lake, University of Houston-Downtown and University of Houston-Victoria. Its responsibilities include providing policy directions while preserving institutional independence and defending each UH System component university's right to manage its own affairs. It also serves to nurture each university so that each may achieve its full potential within its role and mission.
Editor's note: Joe Gutierrez also received an appointment to the UHS Board, but later declined. Story has been updated.
---