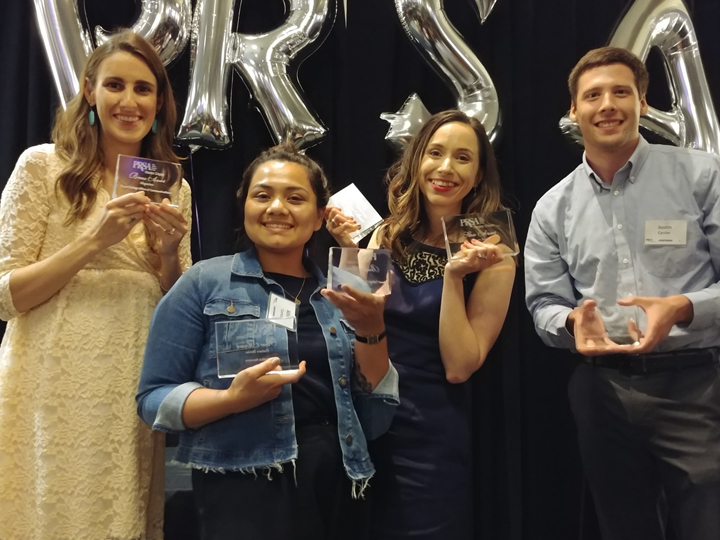 Communicators from across the University earned honors at the Public Relations Society of America (Houston Chapter) Excalibur Awards in June. The annual event recognizes the most outstanding accomplishments in the development and execution of comprehensive public relations programs and tactics.
In total, these talented teams earned 10 bronze, silver and gold awards across multiple categories.
C.T. Bauer College of Business
Bronze – Blogs
The College transformed its existing student subsite into WhereAwesomeHappens.com, a dedicated blog with curated content and social media integration for current and prospective students.
Silver – Feature Stories
"Great Heights" highlights We Olive, a new olive oil and wine business in the Houston Heights, owned by Bauer alumni Luis and Amber Rabo, a husband-and-wife duo who met as MBA students.
Silver – Feature Stories
"Facing Fear" featured Preston Boyer, a Bauer student leading a fashion empire with his brand Preston Douglas.
Bronze – Magazines
Inside Bauer magazine messaging aimed to dispel the notion that b-school students are homogenized, suit-and-tie wearers who solely seek out victories in the boardroom.
Bronze – Podcasts
"How Does She Do It?" is a podcast in Bauer College's Working Wisdom series, focusing on life, work and everything in between, featuring conversation with amazing women who have navigated and overcome obstacles to achieve personal and professional success.
Bronze – Social Media
The Office of Communications leads social media efforts for Bauer College, with a presence on platforms including Instagram, Facebook, Twitter, Snapchat, LinkedIn and Pinterest.
In addition to the PRSA Houston awards, this season, the C.T. Bauer College of Business communications team earned a Bronze Anvil" from the national PRSA for their feature story "Facing Fear", along with seven finalist recognitions in the AMA Houston Crystal Awards and four Bronze Quill Awards from IABC Houston.
Cullen College of Engineering
Bronze – Reputation/Brand Management
The fall 2017 Parameters magazine contributed to the success of a campaign focused on challenging engineering stereotypes. Earlier this year, the publication earned the American Marketing Association's Crystal Award for best public relations/communications newsletter.
Jack J. Valenti School of Communication
Gold – Public Relations/Non-Profit Campaigns
Me to We HTX was strategically created by a team of graduate students at the Valenti school of communication under the direction of Associate Professor Lan Ni. Their goal was to reshape the narrative around Muslim immigration in the United States. Previously, the campaign placed third in the national Peer to Peer: Challenging Extremism initiative hosted by the Department of Homeland Security.
Additionally, College of Liberal Arts and Social Sciences alumnae Natasha Wilson ('16), who now works at Paige PR, won the PRSA Young Public Relations Professional of the Year award.
University Marketing, Communication and Media Relations
Bronze – Reputation/Brand Management
In 2017, the University launched the "Here, We Go" capital campaign. Leveraging owned and earned media, the UMCMR team produced proactive communication content and outreach that enhanced the reputation of the University and built advocacy for the fundraising initiative.
Silver – Crisis Communications and Issues Management
In response to Hurricane Harvey, the UMCMR team and University leadership directed an effective and heartfelt flow of information to numerous audiences who were concerned about safety and life's essentials during and following the storm.
---