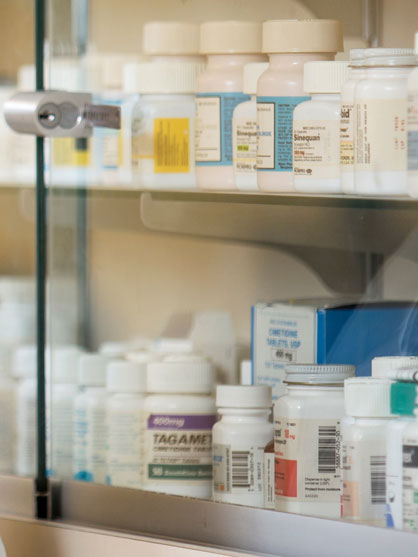 With more than 40 percent of older adults on five or more medications, overprescribing of medications has moved to the forefront of medication safety discussions. The complex issues associated with overprescribing – as well as the current state of the U.S. opioid crisis – will be among the core topics to be discussed at the Second Annual Houston Medication Safety Symposium on Friday, April 13, 8:30 a.m. - 3:45 p.m., in the Texas Medical Center.
Polypharmacy – the concurrent use of multiple medications – can lead to complicated drug interactions and adverse drug events like cognitive decline, falls, hospitalizations, as well as higher, potentially unnecessary patient costs. Often as a consequence of the higher drug costs or difficulty managing multiple drug regimens, patients abandon the drugs they need.  
Event co-chair Rajender Aparasu, professor and chair of the UH College of Pharmacy Department of Pharmaceutical Health Outcomes and Policy, said the health care community has an ethical and professional obligation to take on these two leading health care concerns.
"Although Texas seems to have fared better than other states in the U.S. opioid crisis, we need to remain vigilant in keeping practitioners informed and actively engaged in preventing and identifying opioid misuse and being prepared to assist patients in getting appropriate help," Aparasu said.
"This is a time of great change in the way that we think about opioid medications and the way that we safely treat acute and chronic pain," said symposium co-chair Dr. Holly Holmes, division director and associate professor of geriatric and palliative medicine at UT Health's McGovern Medical School.
Practitioners, residents, fellows and students from a range of health disciplines, including medicine, nursing, dentistry and pharmacy, will be joined by academic researchers to share the latest programs and challenges within the health care community for improving patient outcomes and bringing prevention and intervention strategies to address the two hot topics.
The symposium will be held at the Denton A. Cooley, MD and Ralph C. Cooley, DDS University Life Center, 7440 Cambridge St. It is co-hosted by the Department of Pharmaceutical Health Outcomes and Policy at the UH College of Pharmacy and the UT Health McGovern Medical School, Division of Geriatric and Palliative Medicine and co-sponsored by the UT Health Consortium on Aging and the Phyllis Gough Huffington Endowed Lectureship.
In addition to presentation from prominent national speakers in the field of medication safety, the symposium will feature poster and podium presentations by students, practitioners and other researchers from across the Houston-Galveston region. Awards will be presented to the top presentations, and summaries of the presentations will be published in upcoming issue of the peer-reviewed journal Research in Social and Administrative Pharmacy. Continuing education credits are available for physicians, nurses and dentists.
WHAT:         Second Annual Houston Medication Safety Symposium
WHO:          Lectures by:     
Mellar Davis, MD, FCCP, FAAHPM, Palliative Care Department and section head, Geisinger Medical Center System
"Opioids and Chronic Pain: Where is the Balance?"
Mary Lynn McPherson, PharmD, MA, MDE, BCPS, CPE, professor & executive director, Advanced Post-Graduate Education in Palliative Care, University of Maryland, School of Pharmacy
"Supporting, Empowering and Training Informal Caregivers in Pain Medication Management"
Jerry Gurwitz, MD, chief of Geriatric Medicine, Department of Medicine, University of Massachusetts Medical School
"Drug Therapy in Older Persons: Beliefs, Myths, and Challenges"
Paula Rochon, MD, MPH, FRCPC, vice president, research, Women's College Hospital, professor & Retired Teachers of Ontario/ Les enseignantes et enseignants retraités de l'Ontario (RTO/ERO) chair in Geriatric Medicine, University of Toronto
 "Prescribing Cascades:  Opportunities to Improve Medication Safety"
WHEN:       Friday, April 13, 8:30 a.m. - 3:45 p.m.
WHERE:     The Denton A. Cooley, MD and Ralph C. Cooley, DDS University Life Center, 7440
                 Cambridge St.
Photos: GettyImages
---