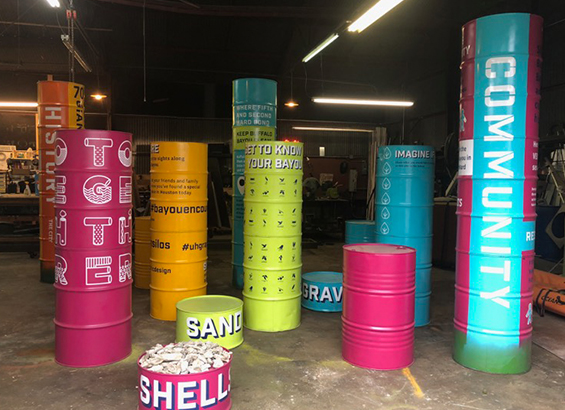 Often described as "Houston's Plymouth Rock," Allen's Landing on Buffalo Bayou is the city's birthplace and original port. Just a few miles away are the old, abandoned gravel silos used to pave the roads we drive on today.
Together these historical sites represent decades of history flowing alongside the 53-mile waterway. Now, students in the University of Houston graphic design program along with students from creative writing are reconnecting Houstonians with the past through a public art project that looks towards the future.
"Encounter: Meeting Points on Buffalo Bayou" is a collaboration between the UH Cynthia Woods Mitchell Center for the Arts in the Kathrine G. McGovern College of the Arts and the Buffalo Bayou Partnership. The event, at 1 p.m., Saturday, April 7, features a self-guided tour of the interactive, text-based installations at six locations along the bayou in the East End and Fifth Ward.
The students spent the past two semesters conducting research and asking residents in those communities about changes they would like to see along their stretch of the bayou. The information was used to create pieces that reflect Houston's history, economy, resiliency and culture.
"We talked to older community members and ones who recently moved to the area who had opinions on how to improve parks and recreational spaces," said graphic design senior Isabella Serimontrikul. "They represent such a diverse area of Houston."
One team, for example, wanted to highlight the four industrial aspects of the gravel silos so they designed 16 beacons made out of reclaimed oil barrels with layered narratives that relate to the ecology, history and culture of the community. Another group of students converted used industrial cable spools into tables and incorporated site-specific poetry in both English and Spanish so visitors would have a place to sit, read and connect with the surroundings of Yolanda Black Navarro Buffalo Bend Nature Park.
This project will serve as a guide for the Buffalo Bayou Partnership's master plan to bring a new network of waterfront parks and open spaces to the East Sector, which stretches from Highway 59 just outside downtown to the Port of Houston Turning Basin.
"We wanted to highlight the culture of the neighborhoods, so we were looking for some public art-type initiative," said Anne Olson, Buffalo Bayou Partnership president. "The students have done really amazing, innovative work."
Click here to see a map of the locations for "Encounter: Meeting Points on Buffalo Bayou".
Photos of the students' work in progress can be seen here.
---