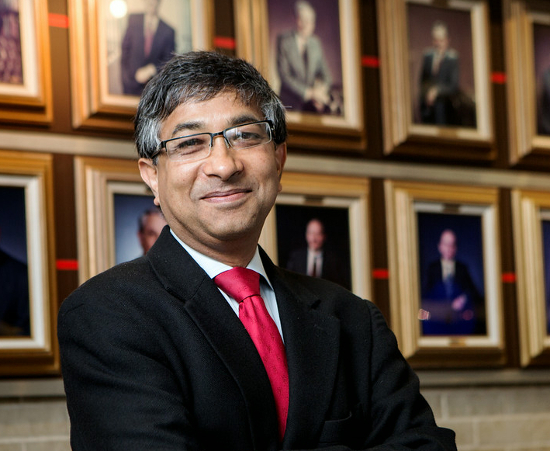 A team of researchers from the University of Houston is working with the oil industry to develop new ways to predict when an offshore drilling rig is at risk for a potentially catastrophic accident.
Ramanan Krishnamoorti, chief energy officer at the University of Houston, will lead the project, drawing expertise from data scientists, petroleum engineers and geoscientists at the University. The work is funded by a $1.2 million grant from the National Academies of Sciences, Engineering and Medicine.
The project is one of six announced Thursday by the Gulf Research Program of the National Academies to develop new technologies, processes or procedures to improve the understanding and management of systemic risk in offshore oil and gas operations.
The Deepwater Horizon explosion in 2010, which left 11 crew members dead and spilled more than 3 million barrels of oil into the Gulf of Mexico, involved the uncontrolled buildup and release of gas, sparking efforts to better understand the movement of hydrocarbons in offshore drilling.  
Gas, water and even drilling fluid can flow up the drilling pipe alongside the desired oil, Krishnamoorti said. The gas can release in a burst or explosion upon reaching the surface, potentially causing a serious accident.
Current industry standards don't address the issue, and the work at UH is aimed at developing new ways to monitor the flow of gas and other hydrocarbons in order to predict when it is necessary to evacuate the drilling platform or shut down production. 
"We are trying to apply fundamental science and engineering processes to predict when a catastrophic event might occur and to develop new methodologies to monitor the process," Krishnamoorti said.
In addition to Krishnamoorti, other UH researchers involved with the project include Andrea Prosperetti, director of the University's Data Science Institute and the Center for Advanced Computing and Data Systems; Amit Amritkar with the Center for Advanced Computing and Data Science, and George Wong and Konstantinos Kosterellos, associate professors of petroleum engineering.
They will work with Mulberry Well Systems LLC and other industry representatives on the project, which he described as a true partnership between industry and academia. "We want to bring in expertise from industry to be complemented by data science and other academic disciplines to address a complex problem," he said.
The project grew out of discussions between the International Association of Drilling Contractors and the Subsea Systems Institute, a research center led by UH, with partners Rice University and NASA Johnson Space Center. Krishnamoorti, a chemical engineer, also serves as director of the Institute.
The work will involve modeling using advanced computing to better understand what happens, and under what conditions, as gas moves up a drilling pipe, allowing researchers to determine how to predict when the gas poses a danger.
Cover photo: Getty Images
---