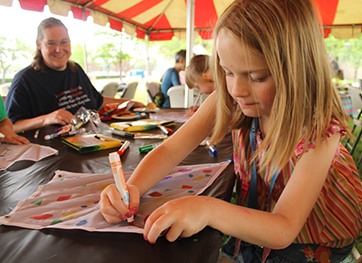 The University of Houston has your VIP ticket to see pieces from one of the most impressive and largest university art collections in the nation.
From noon to 3 p.m., Saturday, April 22, the UH Public Art Collection and the Blaffer Art Museum are hosting the second annual Public Art Day in collaboration with the Cynthia Woods Mitchell Center for the Arts.
During the free event, visitors will learn the history behind the collection and see some of the sculptures located in the area that enhance the beauty of the UH campus. Visitors are encouraged to explore and use the UH ARTour app to guide themselves. There will also be food, music and art-making activities.
Mike Guidry is curator of the UH Public Art Collection, which boasts more than 500 pieces across the UH system. That includes the UH Sugar Land, UH-Clear Lake, UH-Victoria and UH-Downtown campuses.
Q. What a great way to spend a Saturday afternoon. Why hold this event?
Guidry: We believe we have a really wonderful public art collection at UH, perhaps among the top five university collections in the country, and it's worth showing off. Consider it an open house for public art. The event not only helps promote our collection but all of the other art entities on campus. Collectively, we are a major arts destination. It's another way to engage the UH community and the greater Houston community and let people know who we are and what we have.
Q: What is different this year from the first Public Art Day?
Guidry: We are going to have regularly scheduled tours of the artwork focusing on mainly the Jim Sanborn "A, A" sculpture at the M.D. Anderson Library and the Matt Mullican sculpture "Untitled" at the Houston Science Center. This year's art-making activity is focused on text and storytelling. It's also a collaboration with the CounterCurrent17 festival's "The Miraculous: Houston" installation on campus, which has 50 pieces of text spread across the campus. Blaffer Art Museum will be open and visitors can see the Master's Thesis Exhibition as well.
Q. What is the history behind the UH Public Art Collection?
 Guidry: The University was undergoing an unprecedented building boom in 1966, so the UH Board of Regents and then-president Philip Guthrie Hoffman voted to establish a policy that would dedicate 1 percent of the construction cost of all future building projects for works of art. In 1969, the Texas Legislature voted to make this a law. UH was the first university in Texas to have this 1 percent dedicated to public art.
Visitors should meet at Blaffer Art Museum and adjacent courtyard. Public art tours will be available every 30 minutes, starting at 12:30 p.m. Click here to RSVP and see a map.
---