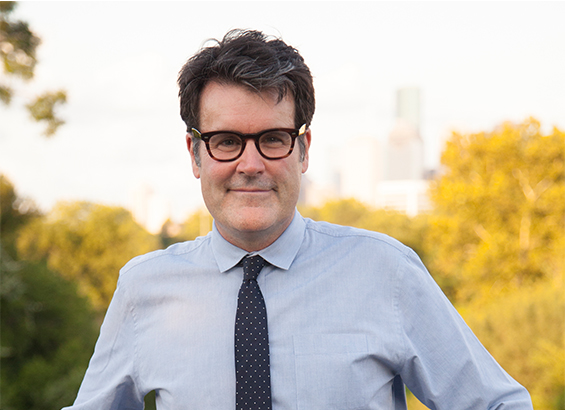 The Blaffer Art Museum at the University of Houston has a new director. He is Toby Kamps, curator of modern and contemporary art at The Menil Collection. Kamps will start his new role as the Jane Dale Owen Director and Chief Curator of the Blaffer Art Museum and research assistant professor of art history in September.
Andrew Davis, dean of the Kathrine G. McGovern College of the Arts, led an extensive national search that brought him right back to Houston and Kamps, who Davis felt was the best fit artistically and professionally.
"Toby brings with him the breadth of curatorial experience and knowledge of the contemporary art world that will enable us to continue to advance the mission of the Blaffer to be one of the city's great contemporary art museums and a pillar in the city's visual arts scene," Davis said.
Kamps has been curator of modern and contemporary art at The Menil Collection since 2010. Prior to that he served as senior curator at the Contemporary Arts Museum Houston.
 "The Blaffer Art Museum has a wonderful record of innovative exhibitions of contemporary art and is truly a gateway between the university and the wider world," Kamps said. "It's an honor to follow Claudia Schmuckli and the Blaffer's previous directors, and I'm extremely excited about all the opportunities to develop the Blaffer's role as a hub for creative research within the new McGovern College of the Arts."
Notable accomplishments in his career include organizing solo exhibitions of work by artists including Vanessa Beecroft, Ellsworth Kelly and Danny Lyon and leading numerous group exhibition and catalogue projects, such as Silence, Small World: Dioramas in Contemporary Art, Space Is the Place, and, with a team, Baja to Vancouver: The West Coast and Contemporary Art. His exhibitions The Old, Weird America and From Baja to Bar Harbor, won best traveling exhibition nationally and best regional university gallery project awards from the U.S. and New England sections of the International Association of Art Critics, respectively.
Kamps has a Master of Arts in art history from Williams College, was a fellow at the Center of Curatorial Leadership and is a graduate of the Getty Museum Leadership Institute.
"We look forward to Toby's arrival and continuing to build our relationship with the great institution that is The Menil," Davis added. "We appreciate everything The Menil brings to making Houston one of the world's leading cities for modern and contemporary art."
---