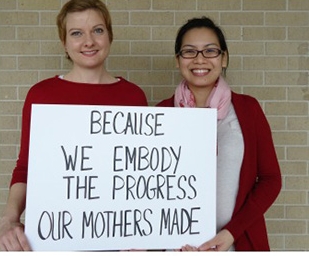 The University of Houston (UH) will present the 18th annual Friends of Women's Studies Table Talk 2015 at noon, Friday, March 6 at the Hilton Americas-Houston hotel.
"Table Talk is a chance for women to exchange information on what worked and what didn't in building their careers and families and making a success of their lives in a fast changing environment," said Elizabeth Gregory, director of the Women's Gender & Sexuality Studies Program and a professor of English at UH. "It's really a folklore event. Women are not trying to impress each other with what they do. They're exchanging vital information on how to negotiate the changing roles of women by sharing their own stories."
Conversationalists include Houston Mayor Annise Parker, fashion entrepreneur and Honorary Chair of the event Tina Knowles, Brown University President Emerita Ruth Simmons, Haynes & Boone LLP Partner Lynne Liberato, and National Book Award finalist Lacy Johnson and 48 others. For a complete list of 2015 conversationalists, visit http://www.uh.edu/class/ws/Programs/table-talk/
The Women's, Gender & Sexuality Studies Program (WGSS) is an interdisciplinary field of study devoted to women's studies, gender identity and gender representation and the study of sexuality through the fields of anthropology, communications, economics, English, health, history, language, literature, political science, philosophy, psychology, biology and sociology. Beginning in the fall 2015, UH will offer a major in Women's, Gender & Sexuality major.
"As every other news story demonstrates, gender roles are both fast changing and hotly contested. The new Women's Gender & Sexuality Studies major provides the tools for negotiating that change for actively participating in shaping it," said Gregory. "The major's curriculum allows students to explore gender's historical and current roles in structuring human societies, in concert with intersecting identity markers like race, nationality, class, sexuality and disability status."
Table Talk 2015 is one of the fundraising events sponsored each year by the Friends of Women's Studies, the philanthropic arm to benefit UH WGSS. Table Talk brings together a dynamic and diverse group of Houston women in a format that builds connections.  To join the Friends of Women's Studies, visit www.friendsofwomen.org
In addition to celebrating the new WGSS major, fifty Houston women of accomplishment will be honored at Table Talk 2015. One at each table, the women share their life experiences and stories with guest seated with them. The event format allows guests to be active participants.
WHAT:                
University of Houston Friends of Women's Studies Table Talk 2015
Co-chairs: Caroline Fant and Mandy Kao                               
Honorary Chair: Tina Knowles 
WHEN:                
Friday, March 6
11:00 a.m. Reception                              
Noon to 1:30 p.m. Conversations over Lunch 
WHO:                   
(SOLD OUT) Individual Tickets $150; Tables available $3,500 +
For more information, contact Ayanna Mccloud at 713-743-3773 or amccloud@uh.edu                
WHERE:             
Hilton Americas-Houston Hotel
1600 Lamar
Houston, TX 77010
For directions, visit http://tinyurl.com/n8yx29v               
# # # 
About the University of Houston
The University of Houston is a Carnegie-designated Tier One public research university recognized by The Princeton Review as one of the nation's best colleges for undergraduate education. UH serves the globally competitive Houston and Gulf Coast Region by providing world-class faculty, experiential learning and strategic industry partnerships. Located in the nation's fourth-largest city, UH serves more than 40,500 students in the most ethnically and culturally diverse region in the country.
---