Jody Williams will discuss her memoir, "My Name is Jody Williams: A Vermont Girl's Winding Path to the Nobel Peace Prize," at 7 p.m., Wednesday, Nov. 20 at Brazos Bookstore. The event is free and open to the public. A book signing will follow the event.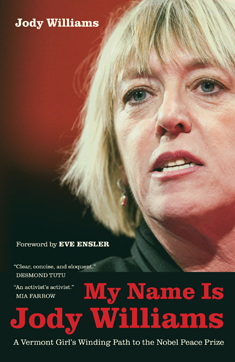 From her modest beginnings to becoming the tenth woman – and third American woman – to receive the Nobel Peace Prize, Jody Williams takes the reader through the ups and downs of her tumultuous and remarkable life. In a voice that is at once candid, straightforward, and intimate, Williams describes her Catholic roots, her first step on a long road to standing up to bullies in defense of her deaf brother Stephen, her transformation from good girl to college hippie at the University of Vermont, and her protest of the war in Vietnam. She relates how, in 1981, she began her lifelong dedication to global activism as she battled to stop the U.S.-backed war in El Salvador.
"Jody Williams is a powerful woman.  When she speaks, she carries the room. When she writes, she is equally clear and captivating," writes Pat Mitchell, CEO of the Paley Center and former CEO of PBS. "What might be the best thing about her – whether she's speaking or writing – is that she shares her power.She is tireless in her work for a better world for us all. She engages through humor and humility and makes anyone who comes in contact with her believe that they too can change the world."
Williams received the 1997 Nobel Peace Prize for her work to ban landmines. She is the Sam and Cele Keeper Endowed Professor in Peace and Social Justice at UH GCSW where she has been teaching since 2003.
She is the founding chair of the Nobel Women's Initiative, launched in January 2006. The recipient of fifteen honorary degrees, Williams was named among the 100 most powerful women in the world in 2004 by Forbes magazine. Since 1998, she has served as a campaign ambassador for the International Campaign to Ban Landmines, which she helped found in 1992.
| | |
| --- | --- |
| WHAT: | Jody Williams to Discuss Her Memoir, "My Name is Jody Williams: A Vermont Girls Winding Path to the Nobel Peace Prize" |
| WHEN:  | 7 p.m.,Wednesday, November 20. A booksigning will follow the event. |
| WHERE:   | Brazos Bookstore, 2421 Bissonnet Street, Houston, Texas 77005 |
| WHO:    | The event is free and open to the public. |
###
About the UH Graduate College ofSocial Work
The UH Graduate College of Social Work (GCSW) is a nationally recognized program, ranked 37 by U.S. News & World Report, educating professionals for social work practice,research and leadership. Offering master's and doctoral degrees, the GCSW is the only social work program in the world to have a Nobel laureate on its faculty. The GCSW advocates for innovative, collaborative, inclusive and humane policies and solutions that promote social, economic and political justice. A commitment to critical thinking that links rigorous scientific inquiry, ethical social work practice and community engagement generates new knowledge to the field of social work and many other disciplines.
About the University of Houston

The University of Houston is a Carnegie-designated Tier One public research university recognized by The Princeton Review as one of the nation's best colleges for undergraduate education. UH serves the globally competitive Houston and Gulf Coast Region by providing world-class faculty, experiential learning and strategic industry partnerships. Located in the nation's fourth-largest city, UH serves more than 39,500 students in the most ethnically and culturally diverse region in the country. For more information about UH, visit the university's newsroom at http://www.uh.edu/news-events/


---