Paula Myrick Short, senior vice chancellor for academic affairs, the University of Houston System, and senior vice president for academic affairs and provost at UH, has been awarded the prestigious Master Professor Award by the University Council for Educational Administration (UCEA). 
The award is given to an individual faculty member whose record is so distinguished that the UCEA must recognize this individual in a significant and timely manner. The award was presented last week at UCEA's national conference in Indianapolis.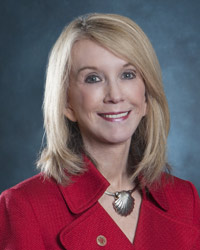 Master professors must meet many criteria such as having a sustained record as outstanding teachers – as attested to by students and faculty peers – and having a record of promoting educational innovation in the classroom. Further, master professors extend educational opportunities to an ever-widening group of students in educational leadership/administration programs.
Short has garnered more than $2.4 million in externally funded research. In addition, she has published more than 95 peer-reviewed articles, two book monographs, eight books and five book chapters. Most of her scholarship has been in top-tier outlets such as Educational Administration Quarterly, Journal of School Leadership, Journal of Educational Administration and Review of Higher Education.
She has chaired 23 doctoral dissertations to completion. Of those, nine pursued academic careers in higher education as professors. The remaining 14 are principals, central office administrators or administrators in higher education institutions.
Short's recent appointment as provost at UH follows her decade-long tenure as vice chancellor for academic affairs for the Tennessee Board of Regents, the sixth-largest governing board system of higher education in the United States. Previously, she was associate vice president for academic affairs for the University of Missouri System and department head of Educational Leadership and Policy Studies at the University of Missouri-Columbia.
"When Dr. Short served as a faculty member and department chair, her teaching was exemplary," said Cindy Reed, president of UCEA. "Three times she received the College of Education High Flyer Teaching Award while at the University of Missouri at Columbia.
"Dr. Short has served as a mentor to countless junior and senior faculty as well as under-represented scholars, in particular, women in academe," Reed said. "She continues to be a leader of leaders and actively supports diversity in faculty, students, staff, programs and curriculum in the field of educational leadership within the U.S. and internationally."
James Crawford, professor at the University of Nevada-Las Vegas, noted in his letter of support, "My relationship with Dr. Short did not end when I defended my dissertation and earned my Ph.D. It had only just begun. Dr. Short has not only continued to advise me, but she has helped me advise my own doctoral students."
Bruce Cooper, professor at Fordham University described Short this way in his letter of support, "Her name may be 'short,' but her accomplishments are truly large and amazing for someone to do in one career… and she continues to lead and contribute to our field and our work."
The University Council for Educational Administration is a consortium of research universities with doctoral programs in educational leadership and policy. The dual mission of UCEA is to improve the preparation of educational leaders and promote the development of professional knowledge in school improvement and administration.
---