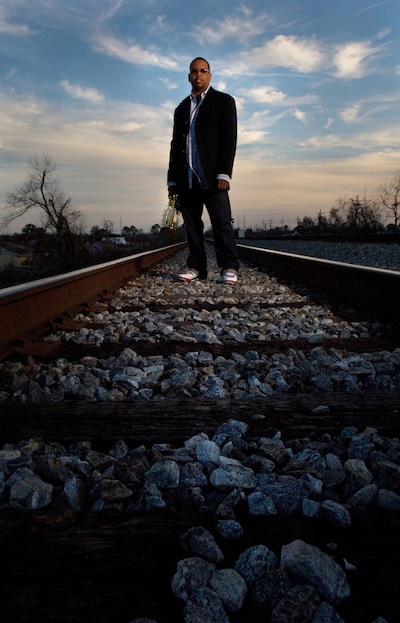 Terence Blanchard has contributed his musical talents to acclaimed film scores, award-winning recordings and awe-inspiring live performances. Next up on the veteran jazz trumpeter's busy schedule is a visit to the University of Houston.
Blanchard will perform alongside the UH Jazz Orchestra at 7:30 p.m., Nov. 15 in UH's Moores Opera House (Entrance 16 off Cullen Boulevard). Tickets are $12 and $7 for students and seniors. They can be purchased at the Moores School of Music's box office site or by calling 713-743-3313.
Blanchard will be on campus Nov. 11 – 15 rehearsing with the Jazz Orchestra. At 1 p.m., Nov. 14, he will host a composer's forum in Room 145 of the Moores School of Music.
Born in New Orleans, Blanchard learned his craft alongside friend and fellow trumpeter Wynton Marsalis. In high school, he honed his skills at the New Orleans Center for Creative Arts and later studied at Rutgers University. While at Rutgers, he toured as part of Lionel Hampton's orchestra. Later, he would join Art Blakely's Jazz Messengers and co-found the Harrison/Blanchard Group with saxophonist Donald Harrison.
In the early 1990s, Blanchard embarked on a prolific solo recording career and found another musical calling as a composer of film scores. Blanchard has performed on and composed the scores for the bulk of Spike Lee's films and documentaries ("Jungle Fever," "Malcolm X," "Crooklyn," "Clockers," "When the Levees Broke").
Blanchard's recent honors include Grammy Awards for Best Jazz Instrumental Solo for tracks "Be-Bop" (2007) and "Dancin' 4 Chicken" (2008).
His recent projects include his first opera commission, "Champion" and recent LP, "Magnetic."
UH's jazz program is directed by Noe Marmolejo and Ryan Gabbart, assistant director. As part of the Moores School of Music, the program continues to bring top performers to campus. In addition to residencies and concerts, the program hosts the Moores Jazz Festival each spring. Artists who have performed alongside UH jazz students include the Count Basie Orchestra, Michael Brecker, Bill Evans, Andy Martin, Lew Soloff and Randy Brecker. For more details on the festival and UH's jazz studies program, visit http://uhjazz.com/.
---