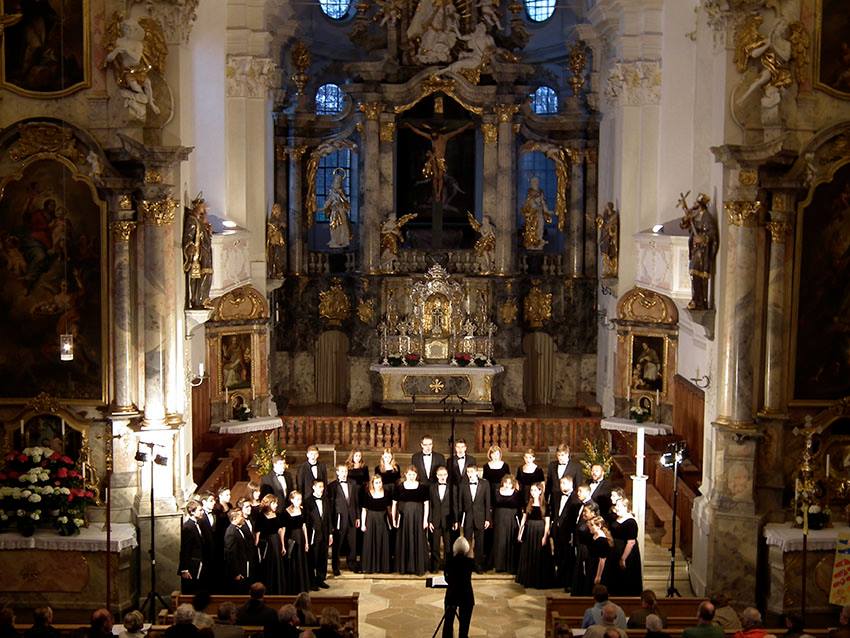 During its third trip across the pond, the University of Houston's Moores Concert Chorale has again impressed international audiences.
The chorale ventured to the 13th Annual International Chamber Choir Competition in Marktoberdorf, Germany. Today, the results were announced, and the chorale earned the competition's first prize. The chorale also earned the competition's Gustave Charlier-Anna Maroye Prize for best interpretation of a religious chorale work ("Splendid Jewel" by Steven Paulus). 
In Marktoberdorf, the chorale also performed the world premiere of "In Love With The Beautiful Eyes" written by UH Moores School of Music director David Ashley White (based on a text by Michelangelo).
Although the chorale has provided the university much to celebrate, there is more singing to be done. The competition has drawn to a close, but the chorale was invited to serve as a demonstration choir for a conducting master class. The Moores Concert Chorale was the only choir selected for this prestigious event.
Led by director Betsy Cook Weber, UH's chorale was among 10 elite choirs from around the world to be selected for the International Chamber Choir Competition. In addition to its performances in the competition, the chorale performed with other choirs in concerts in nearby villages and towns. During some of these performances, it collaborated with choirs from Serbia and Sweden.
The Concert Chorale's appearance at this event complements previous international visits. In 2009, it participated in Llangollen International Musical Eisteddfod in Llangollen, Wales. At that festival, the group earned first place in the chamber choir competition. In 2011, the group was selected for Florilege Vocal de Tours in Tours, France. During that competition, the Concert Chorale earned second place in the mixed choirs competition and received honors for Best New Creation (for a performance of White's "I Cannot Live With You").
UH's Moores Concert Chorale is the university's premiere large choral ensemble consisting of mainly junior and senior music majors. In Houston, the group has a devoted following through its numerous performances on campus and in the community. It is among the ensembles based within the Moores School of Music. Other award-winning groups include the Moores School Symphony Orchestra, Moores Jazz Ensemble, Moores Opera Center, Concert Women's Chorus, Spirit of Houston Cougar Marching Band, Wind Ensemble and Percussion Ensemble.
The Moores School of Music offers bachelor's, master's and doctoral degrees. It serves approximately 600 students annually. Areas of study include composition, conducting, performance, theory and musicology. Its faculty consists of internationally recognized performers, composers and scholars. A majority of the school's concerts are performed in the 800-seat Moores Opera House. For more details on the Moores School of Music, visit http://www.music.uh.edu/.
---