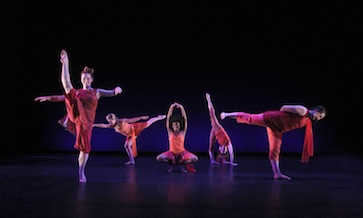 The University of Houston is a hotbed for top choreographers and rising dance stars. Its dance program's faculty includes a who's who of dance professionals, who deliver performances on campus and in the community.
During the first weekend in April, dance fans can sample the talents of UH dance professors and special guests during Ensemble Dance Works 2013. This showcase of works includes new choreography performed by the UH Dance Ensemble, the university's pre-professional dance company. Performances are 7:30 p.m., April 5 and 6, and 1:30 p.m., April 7 in UH's Lyndall Finley Wortham Theatre (Entrance 16 off Cullen Boulevard).
Tickets are $20 and $12 for seniors. They can be purchased at the Wortham Box Office or by calling 713-743-2929.
Choreographers presenting works include:
Teresa Chapman, associate professor, will present "Crawl Before You Walk." The piece was inspired by contrasting movement patterns and gestures of both old and young people.
Becky Valls, assistant professor, will present "Dangle," a quirky piece set to Klezmer music and accented by dancers' facial expressions. '
Leslie Scates, adjunct faculty member, shares "HERD," in which she works with improvised movement from a foundation of sustained and repetitive movement phrases.
jhon r. stronks, adjunct faculty member, offers "Dogs don't eat egg rolls," an ensemble work exploring the development and establishment of community.
Sophia L. Torres, adjunct faculty member, will deliver "Ground Swell," which explores movements that occur both in nature and human nature.
Guest artist Sara Draper will showcase "First Day of Spring." The piece draws inspiration from traditional ethnic dance styles, as well as contemporary movements.
UH is the only university in Houston to offer a bachelor of arts degree and teacher's certification in dance. Components of UH's dance program include the Center for Choreography, University Dance Theatre (student organization) and the UH Dance Ensemble (the university's pre-professional dance company). For more details on UH's dance program and upcoming performances, visit its website. 
###
---