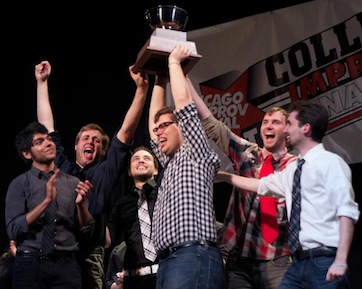 Seven University of Houston School of Theatre & Dance students are used to making things up on the spot, but even they could not have imagined a more perfect ending.
UH student improvisational comedy troupe Glaundor spent the past few months perfecting its act for the National College Improv Tournament  (CIT) at Chicago's Athenaeum Theater. Over the weekend, the comedy team emerged as the first-place winner in the prestigious competition.
"We've worked together for two and a half years, and this is the cherry on top," said Glaundor member and senior Jason Ronje. "It's an affirmation that our hard work has paid off, and it opens up valuable networking opportunities."
Glaundor's members include Ronje, Colin David, Andrew Garrett, Kirk Ellis, Kevin Lusignolo, Adam Sowers and Saurabh Pande.
Its road to a national title began when it took first place in the tournament's southwest regional competition in Austin. In Chicago, it joined 15 other regional champions who were vying for the national crown.
After successfully winning its preliminary round in Chicago, Glaundor found itself in the tournament's finals with three other teams: Paperback Rhino (University of Iowa), Seriously Bent (Suffolk University) and UBCimprov (University of British Columbia).
"After we finished our performance for the final round, I realized that it was one of our best sets," Ronje said. "I turned to Kevin (Lusignolo) and said, 'We might actually win.' It wasn't until then that I thought it was a possibility. Then, they announced our name as the winner, and we all went nuts."
Glaundor is the first troupe from the southwest region and the second from outside of Illinois to win CIT. Ronje said that he hopes this exposure helps inspire more improv troupes to emerge from UH and across the state.
"If you're thinking about picking up improv, just do it," he said. "For me, being in Glaundor and doing improv is about having fun. You don't have to be a national contest winner to have a great time. If we had come in 16th place, we still would be happy. I'd love for everyone to do improv. I don't know of anyone who does this who doesn't have a good time."
Glaundor made its debut in 2011 at Houston nightclub, the Mink. Later that year,  the group performed in front of 600 people at UH's Cullen Performance Hall as the opening act for popular comedy troupe, the Upright Citizens Brigade (UCB).
Glaundor specializes in long-form improv comedy, which links separate stories together within a single performance. The group performs on campus and at Houston venues. It also has taken its brand of comedy to Texas Christian University in Fort Worth, Texas.
For more details on Glaundor, visit the group's Facebook site.
###
---