It's a tragic tale of lust, love and a fateful curse. For opera audiences, Verdi's opera masterpiece "Rigoletto" remains as fresh today as it did when it premiered in 1851.
For all of its popularity, few university programs perform the classic opera. In April, Houstonians will get a rare opportunity to experience an ambitious performance of "Rigoletto" from the University of Houston's Moores Opera Center.
While UH has hosted numerous city and regional premieres, "Rigoletto" will make its campus debut at the university's Moores Opera House (Entrance 16 off Cullen Boulevard). Tickets are $20, and $12 for students and seniors. They can be purchased by calling 713-743-3313 or by visiting the Moores online box office.
Performance times and dates are as follows:
7:30 p.m., April 5
2 p.m., April 7
 "Rigoletto" follows the titular character, a cruel court jester, and his lascivious lord, the Duke of Mantua. Rigoletto takes delight in prodding husbands whose wives have been wooed by the Duke. His tone takes a turn when the father of one of the Duke's lovers places a curse on them. Adding to Rigoletto's worries is the fact that his daughter Gilda is about to fall prey to the Duke's advances.
 "Rigoletto" is directed by Moores Opera Center director Buck Ross. Moores School of Music (MSM) faculty member Brett Mitchell is the production's music director. Lead roles are performed by MSM graduate students: James Rodriguez as Rigoletto, Chris Trapani as the Duke, Ashly Neumann and Kirsten Leslie alternate the role of Gilda.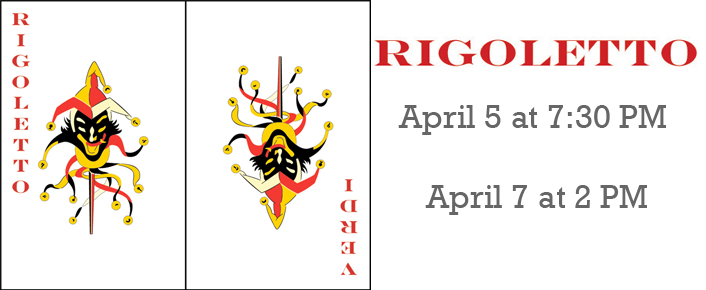 "There are many wonderful tunes in this opera…even selections that non-opera fans can recognize," Ross said. "'Rigoletto' also is dramatically complex and features some of the most memorable characters in opera."
It's not uncommon for the Moores Opera Center to take on vocally complex works. Last year, the center earned praise for its production of "Der Rosenkavalier," which earned a National Opera Association (NOA) award.
"We can pull off this kind of opera because we have quality singers," Ross said. "Performing operas such as 'Rigoletto' is very telling. It lets people know what kind of performers UH is attracting and producing."
The Moores Opera Center was founded in 1986 by director Buck Ross and produces four productions each season. Among the center's Houston premieres are Daron Hagen's "Amelia," Daniel Catán's "Il Postino," Robert Aldridge's "Elmer Gantry," Ricky Ian Gordon's "The Grapes of Wrath," Sergei Prokofiev's "The Love for Three Oranges," Carl Maria von Weber's "Der Freischütz," Samuel Barber's "Vanessa," Jules Massenet's "Chérubin," Gioachino Rossini's "Il viaggio a Reims," and Kurt Weill's "The Rise and Fall of the City of Mahagonny." In 2012, the center earned awards from the National Opera Association for productions of "Amelia" and "Der Rosenkavalier." In 2011, it also received NOA honors for "Il Postino." Professional recordings include the center's productions of Dominick Argento's "Casanova's Homecoming" and a DVD release of Robert Nelson's "A Room With a View." For more details on the Moores Opera Center, visit http://www.music.uh.edu/opera/. 
###
About the University of Houston
The University of Houston is a Carnegie-designated Tier One public research university recognized by The Princeton Review as one of the nation's best colleges for undergraduate education. UH serves the globally competitive Houston and Gulf Coast Region by providing world-class faculty, experiential learning and strategic industry partnerships. Located in the nation's fourth-largest city, UH serves more than 40,700 students in the most ethnically and culturally diverse region in the country.
---