Seven University of Houston students have spent the past two years honing their comedic improvisational talents on local stages. Now, they are preparing to take their show on the road to compete in the National College Improv Tournament (CIT) March 23 in Chicago's Athenaeum Theater.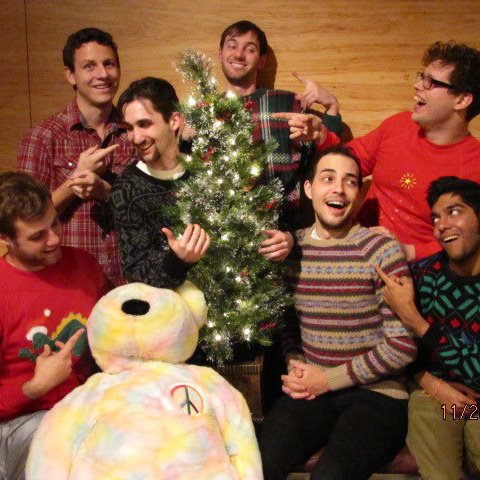 Comprised of students from UH's School of Theatre & Dance, the troupe Glaundor will compete against improv teams from across the country. The group recently took first place in CIT's southwest regional tournament in Austin, earning it a spot in the national competition.
"Representing UH at the College Improv Tournament is an awesome feeling," said Glaundor member and senior theater major Jason Ronje. "Many members of Glaundor want to pursue improv after graduation, so it will be great to perform in Chicago, which is considered as the mecca for this form of comedy."
In addition to Ronje, Glaundor members include Colin David, Andrew Garrett, Kirk Ellis, Kevin Lusignolo, Adam Sowers and Saurabh Pande.
In 2011, the group made its debut during an open mic comedy night at Houston nightclub, the Mink. Later that year, Glaundor performed in front of 600 people at UH's Cullen Performance Hall as the opening act for popular comedy troupe, the Upright Citizens Brigade (UCB). That particular experience also was rewarding as UCB members conducted an improv workshop for Ronje and the rest of Glaundor.
"That experience helped us gauge where we were as a troupe," Ronje said. "It gave us a vocabulary that we could use to expand on our act. Before that, we were a gaggle of guys goofing around.  Now, we can intelligently discuss what does and doesn't make a scene work."
Glaundor specializes in long-form improv comedy, which links separate stories together within a single performance. The group performs on campus and at Houston venues. It also has taken its brand of comedy to Texas Christian University in Fort Worth, Texas.
For more details on Glaundor, visit the group's Facebook site.
###
About the University of Houston
The University of Houston is a Carnegie-designated Tier One public research university recognized by The Princeton Review as one of the nation's best colleges for undergraduate education. UH serves the globally competitive Houston and Gulf Coast Region by providing world-class faculty, experiential learning and strategic industry partnerships. Located in the nation's fourth-largest city, UH serves more than 40,700 students in the most ethnically and culturally diverse region in the country.
---