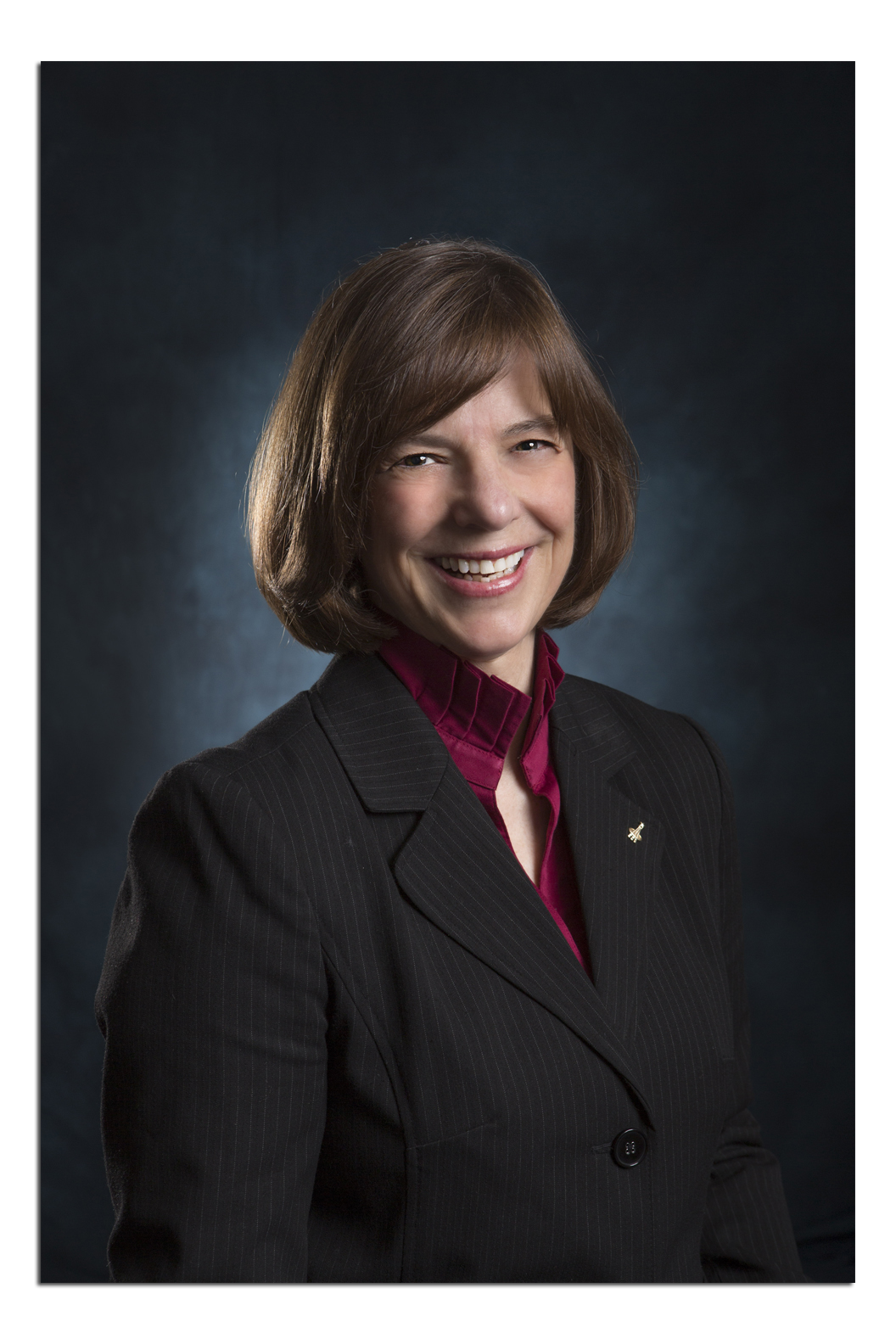 Adding to an impressive list of accomplishments that continues to raise the national profile of the University of Houston, President Renu Khator has recruited and hired retired NASA astronaut and engineer Dr. Bonnie J. Dunbar to lead a new University STEM Center (science, technology, engineering and math) and to join the faculty of the College of Engineering.
A member of the prestigious National Academy of Engineering, Dunbar, a professor of mechanical and biomedical engineering and a UH alumna, will provide transformative leadership in the development of a new integrated university STEM Center, building upon currently strong programs in several of the colleges, and leveraging their success in the larger K-12 community.
STEM education is a pivotal issue for the Greater Houston Region, which is focused on attracting and sustaining high-tech industries. Dunbar will bring her STEM network and national and international STEM experience to UH, an expansion of Khator's bold hiring strategy that taps the expertise of top talent through the cluster hire process. To support this strategy and increase the University's capacity to produce more STEM graduates, Khator last year created a $30 million fund to attract some of the nation's most talented research faculty in STEM fields.
The STEM Center offers a unique collection of strengths, including Tier One research and a strategic location in an international city near the Texas Medical Center and NASA's Johnson Space Center. Administered by the Division of Research, the STEM Center integrates activities from the colleges of Engineering, Education, Technology, and Natural Sciences and Mathematics. There are only about 160 STEM centers housed at universities across the nation. A new STEM Center website is planned, and Dunbar will actively promote STEM education on social media, including Twitter.
Dunbar, who accepted her first corporate job as systems analyst for The Boeing Company in 1973, has devoted her life to furthering engineering and science education. One of her goals for the STEM Center will be to engage and support educational programs for K-12 education. Of note, Dunbar said, is UH's designation as an Hispanic-serving institution – one of only two Hispanic-serving higher education institutions in the nation that also are Tier One. This reflects UH's commitment to Closing the Gaps, the Texas Higher Education Coordinating Board's plan to close the state's educational gaps in student participation, student success, excellence and research by 2015. The initiative's key goal of increasing underrepresented student participation and success in Texas higher education meshes with her vision for STEM education, she said.
"Developing a pipeline for careers in science, technology, engineering and mathematics will play a major role in the sustained growth and stability of the U.S. economy, and is a critical component to helping our nation win the future," Dunbar said.  To address the grand challenges of this great country, we need the new ideas, new companies and new industries created by STEM careers. This has been historically, and will be in the future, the key to great progress in the United States."
Dunbar also is expected to teach in the classroom next year, an opportunity she embraces. "I will be developing a new undergraduate course designed to inspire and retain our engineering undergraduate students—it will explore with them how engineering has transformed our lives throughout history and will be presented through the lens of aerospace and space exploration," she said. "We may offer it to all undergraduates to help them better understand how math, science, and engineering are important to developing the technologies surrounding them every day and solving many of society's "grand challenges", from communication and transportation, to the environment –and even social problems as well."
Prior to joining UH, Dunbar was based in the Seattle area, consulting around the country and internationally on STEM education and space flight technology. A former President and CEO of the Museum of Flight in Seattle, Dunbar is a much beloved figure, inspiring young people, including legions of young girls and women wherever she goes.  She credits much of her success to her family, her teachers and professors, mentors, and very positive work experiences at the Rockwell International Company where she worked on the first Space Shuttle, Columbia, and her 27 years at NASA.
Before joining Boeing, Dunbar owned her own aerospace and STEM education consulting company, Dunbar International LLC. Among her projects, she led the effort to bring a retiring Space Shuttle to Washington State and helped complete fundraising for Aviation High School, which is being co-located at the Seattle Museum of Flight. Previously, she was President and CEO of the Seattle Museum of Flight for five years. During her tenure at the museum, K-12 STEM programs were expanded to reach nearly 140,000 students per year. Dunbar also founded the Washington Aerospace Scholars program for high school juniors in partnership with NASA and the State of Washington and expanded participation in the Aviation Learning Center, the Aerospace Camp Experience and Challenger Learning Center.
Dunbar also strengthened ties to regional community colleges, engineering societies and university engineering departments.
As a NASA mission specialist astronaut and veteran of five space flights, Dunbar logged more than 50 days in space. Dunbar trained in Star City Russia for 13 months and flew the first docking flight between the Russian Space Station MIR and the Space Shuttle in 1995. Dunbar served as payload commander on two flights, participated in a 13-day Spacelab flight as well as the eighth docking mission to MIR. Following her flight career, Dunbar served in the government Senior Executive Service for seven years, holding various senior management positions at NASA Headquarters in Washington, D.C., and at the NASA Johnson Space Center (JSC). As Assistant Director at NASA JSC, Dunbar founded the annual NASA- University Engineering Research Summit and was responsible for university relations and grant management.
Prior to working for NASA, Dunbar was a senior production operations research engineer with Rockwell International Space Division, where she helped develop equipment and processes for manufacturing the thermal protection system for the Space Shuttle. For her work, she was named Rockwell Engineer of the Year. Earlier, Dunbar was a visiting scientist to Harwell Laboratories in Oxford, England and a Systems Analyst with Boeing Computer Services. Dunbar received a Ph. D. in engineering from the University of Houston, master's and bachelor's degrees in engineering from the University of Washington and graduated from the Kennedy School for Senior Managers in Government at Harvard University.
Dunbar is a Fellow of the American Institute of Aeronautics and Astronautics, Fellow and Life member of the American Ceramic Society, Fellow of the Royal Aeronautical Society, an elected member of the Royal Society of Edinburgh and was elected to the National Academy of Engineering in 2002.
She has been awarded the NASA Space Flight Medal five times, the NASA Exceptional Leadership Medal, the NASA Distinguished Service Medal and the Washington State Medal of Merit. For her service to engineering education, she was awarded the American Association of Mechanical Engineers Ralph Roe Award in 2009 and in 2012 was awarded the University of Washington's College of Engineering Diamond Award for lifetime public service. Dunbar also is a founding board member for the Washington State Academy of Sciences and the Academy of Medicine, Engineering and Science of Texas. She holds seven honorary university doctoral degrees.
Dunbar recently was elected to the august Executive Committee of the International Association of Space Explorers (ASE) at the XXV Planetary Congress of the ASE, held this year in Saudi Arabia. She is the first women space flier in that committee's 25- year history. In April, she will be inducted into the Astronaut Hall of Fame in Florida.
Dunbar grew up in the Yakima Valley of Washington State on a cattle ranch homesteaded by her parents in 1948. She learned to fly with the Rockwell Flying Club at the Orange County Airport in 1977 and maintains her pilot's license. In addition, she logged more than 1,000 hours as co-pilot in NASA T-38s as part of Spaceflight Readiness Training for the astronaut corps.
About the University of Houston                
The University of Houston is a Carnegie-designated Tier One public research university recognized by The Princeton Review as one of the nation's best colleges for undergraduate education. UH serves the globally competitive Houston and Gulf Coast Region by providing world-class faculty, experiential learning and strategic industry partnerships. Located in the nation's fourth-largest city, UH serves more than 40,700 students in the most ethnically and culturally diverse region in the country.
---