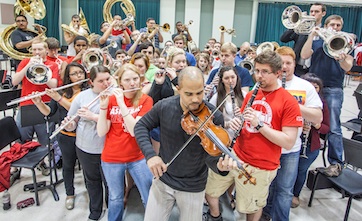 Daniel Bernard Roumain's (also known as DBR) musical repertoire extends across a host of genres: rock, hip-hop, funk and classical. The versatile composer/violinist has earned acclaim for straddling a host of musical boundaries and seamlessly blending different styles into a singular, cutting edge sound.
The University of Houston Cynthia Woods Mitchell Center for the Arts is pleased to announce a two-year residency with Roumain, who will focus on developing a new site-specific work with the Spirit of Houston Marching Band.  The residency launches with "En Masse," a participatory performance at Houston's Discovery Green (1500 McKinney St.), featuring DBR together with the marching band.  The experience of "En Masse" will include explosive parade-like processionals as well as smaller groups of band members appearing at locations around the park. The marathon musical event will run 4 – 8 p.m., April 20 and will feature recently commissioned music by Roumain titled "En Masse Studies and Etudes."
 "I'm very excited about this piece," Roumain said. "It's coming at a great time because it allows me to write pure instrumental music on which others can create variations."
Former Mitchell Center artist and frequent DBR collaborator Marc Bamuthi Joseph will serve as director of "En Masse," honing the audience experience of the day into a participatory event.  Joseph envisions the event as one in which visitors come and go as they please, experiencing an hour of the performance or staying for the entire experience.
"It's about being big," Roumain said. "Big instruments, big sound and a big space. This is having an effect on what I'm writing. One bass line played by 50 instruments…that's thousands of overtones. One line of music played by a lot of people is very exciting."
Working closely with both guest artists is Troy Bennefield, UH director of athletic bands, who will coordinate and supervise the bands and collaborate on the choreography.
"I am thrilled that the Spirit of Houston is able to collaborate with artists such as DBR and Marc Bamuthi Joseph.  Our students to have the opportunity to do what they do best and have an artistic production designed just for them. It's a special experience that I'm sure will not be forgotten," Bennefield said.
Collaborations aren't new to Roumain. Throughout his career, he's paired his talents as a musician and composer with disparate creative spirits such as Lady Gaga, Philip Glass, Cassandra Wilson, Savion Glover and others. His commissioned works have been performed by leading orchestras and ensembles around the country including the American Composers Orchestra, Boston Pops Orchestra, Brooklyn Philharmonic and Vancouver Symphony. Roumain's recorded works include "Woodbox Beats & Balladry" (2010), "etudes4violin@electronix" (2007) and "Pulsing" (2006). For a complete discography and to learn more about DBR, visit his website.
Guest artist Joseph is a writer and performer, who previously served as an artist-in-residence for the Mitchell Center and premiered "red, black and GREEN: a blues" at UH in 2011. During his time at UH, Joseph also organized Life is Living, a festival in Third Ward's Emancipation Park focusing on art, education and activism.
###
About the Mitchell Center
The Cynthia Woods Mitchell Center for the Arts is dedicated to groundbreaking, transformational collaborations across the performing, visual, and literary arts. Based at the University of Houston, the Mitchell Center commissions and produces new works, presents public performances and exhibitions, offers curriculum and scholarships, and hosts residencies with renowned visiting artists from throughout the world. The Mitchell Center forms an alliance among five departments at UH: the School of Art, Moores School of Music, School of Theatre and Dance, Creative Writing Program, and Blaffer Art Museum. To learn more about the center, visit its website.
About the University of Houston
The University of Houston is a Carnegie-designated Tier One public research university recognized by The Princeton Review as one of the nation's best colleges for undergraduate education. UH serves the globally competitive Houston and Gulf Coast Region by providing world-class faculty, experiential learning and strategic industry partnerships. Located in the nation's fourth-largest city, UH serves more than 40,700 students in the most ethnically and culturally diverse region in the country.
---