In 1969, Sidney "Doc" Berger arrived at the University of Houston with one goal – to transform the university's small drama department into a world class training center for aspiring theater professionals.
When he departed the university 41 years later, he could confidently say, "Mission accomplished."
Berger passed away on Feb. 15.
In 2010 Berger stepped away from UH's stages as a director, producer and mentor. His contributions to the local and national theater landscapes, however, will continue to flourish.
Berger served as the director for UH's School of Theatre & Dance from 1969 -  2007 and groomed hundreds of students. He also enlisted star faculty including Broadway vet Stuart Ostrow, Pulitzer Prize winners Edward Albee and Lanford Wilson, directing legend Jose Quintero, noted educator Cecil Pickett and Sir Peter Hall, founder of the Royal Shakespeare Company.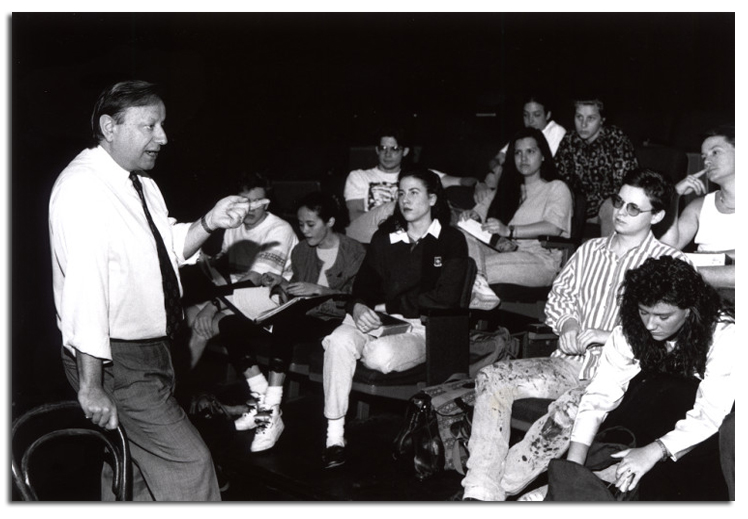 Among the many actors and artists who learned from Berger were Robert Wuhl ("Batman"), Jim Parsons ("Big Bang Theory"), Brett Cullen ("Lost"), Cindy Pickett ("Ferris Bueller's Day Off"), Loretta Devine ("Waiting to Exhale") Dennis Quaid and Randy Quaid.
Berger also left an indelible impression on Houston's cultural landscape by founding the immensely popular Houston Shakespeare Festival (HSF) at Miller Outdoor 
Theatre in 1975. This festival continues to entertain thousands each summer and showcases the talents of leading stage professionals.
He also was a driving force behind the Children's Theatre Festival, which entertained young audiences during summer months.  Under his guidance, the festival ran from 1980 – 2008. Berger tapped the talents of Broadway greats to create world premiere works for this annual event. Charles Strouse ("Annie") and Jerry Bock ("Fiddler On The Roof") were among the creative minds that contributed to the festival.
Berger stepped down as the school's director in 2007. He officially retired from UH in 2009. In 2010, he took a last bow as the director of the Houston Shakespeare Festival.
The final play Berger directed at UH was "At Home At The Zoo," which was written by close friend and colleague Edward Albee. His final HSF play was "Much Ado About Nothing" in 2010.
"He ran a fine, humanistic ship, and his gentleness and his humor will be missed," Albee said of Berger's retirement in 2007. "There's much to be learned from Sid, whom I love dearly, and I hope those who follow him have the wisdom to learn it."
Berger's accolades include the 1992 Esther Farfel Award, UH's highest faculty honor, and the 2007 Theatre Under the Stars Ruth Denney Award, which recognizes arts educators. In 2007, he was recognized by U.S. Congressman Gene Green in the Congressional Record for his tireless efforts with the Houston Shakespeare Festival. Mayor Annise Parker paid tribute to Berger during his final year with HSF by proclaiming Aug. 6, 2010 as "Sidney Berger Day" in Houston.
"I have had a wonderful career here at the university," Berger said in 2007. "I could not think of another place I would have wanted to spend my professional life."
"It is next to impossible to encapsulate Sidney Berger's life in Houston into a few sentences. Creator, director, visionary, chair, teacher, friend, colleague, passionate Shakespeare lover, giant in educational theater world – are all words that come to mind," said Steve Wallace, director of the UH School of Theatre & Dance. "His work was his life , his life was his work.  He was happiest directing a Shakespeare play at the wonderful Miller Outdoor Theatre that gave the Houston Shakespeare Festival a home since 1975. Whether audiences were sitting on the front row or enjoying glasses of wine on a blanket out on the hill,  it didn't matter to him; they were all his friends because they loved his friend William Shakespeare.
"Sidney would want to have Shakespeare say goodbye the way only the Bard could...'Good-night sweet prince, And flights of angels sing thee to thy rest.'"
---