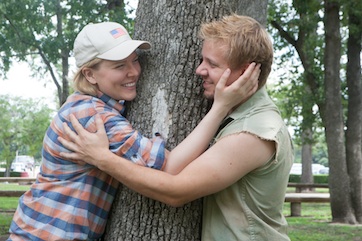 On the hill and in the seats, the words of Shakespeare are resonating throughout Miller Outdoor Theatre.  The Houston Shakespeare Festival is in full swing, and audiences are flocking to this year's performances of "Antony and Cleopatra" and "As You Like It."
Produced by the University of Houston's School of Theatre & Dance, the festival has been an annual tradition for 38 years. To celebrate its contributions to the city's cultural landscape, the city of Houston is proclaiming Aug. 9 as "Houston Shakespeare Festival Day."
An excerpt from the official proclamation reads as follows:
"Whereas, the Houston Shakespeare Festival has entertained nearly half a million Houstonians with free performances at Miller Outdoor Theatre since 1975. Whereas, the annual festival is a recognized Equity Theatre and features top stage stars and showcases the talents of UH faculty, staff and students. Therefore, I Annise D. Parker, Mayor of the City of Houston hereby proclaim Aug. 9, 2013 as Houston Shakespeare Festival Day in Houston, Texas."
The 2013 Houston Shakespeare Festival is running through Aug. 11. All performances begin at 8:30 p.m. Remaining dates are as follows:
"Antony and Cleopatra" – Aug. 8, 10
"As You Like It" – Aug. 9, 11
This year's event features guest actors Seth Gilliam, Brandon Dirden, Crystal Dickinson and Chris Hutchison. Visiting directors are Leah C. Gardiner ("Antony and Cleopatra") and Marc Masterson ("As You Like It").
Students from the Houston Shakespeare Conservatory are performing scenes before each play on the hill and throughout the theater. Also, each performance is preceded by a tribute to festival co-founder and its longtime director Sidney Berger. Berger, former UH School of Theatre & Dance director, passed away in February.
The festival is a professional project of the school and has featured both rising stars and esteemed stage veterans. Among the visiting artists who have participated in HSF was Oscar-nominated actor Dan O'Herlihy, who played the title role in the festival's production of "King Lear." Regional star Ken Ruta also contributed his talents to HSF, starring as Prospero in "The Tempest." In 2012, the festival showcased the stage talents of Mark Metcalf ("Animal House") and UH alum Cindy Pickett ("Ferris Bueller's Day Off").
For details on tickets or the box office, visit the Miller Outdoor Theatre's website.
###
---