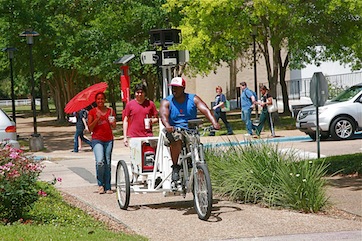 – A trip to Texas is no longer necessary to explore the University of Houston. Detailed, street-level images of the campus are now visible directly within Google Maps, Google Earth and Google Maps for mobile for anyone who wants an in-depth look inside Cougar Country.
Street View is the popular feature of Google Maps that allows web users to view panoramic images of locations around the world. UH is now among more than 275 universities whose campuses are now available through this online tool.  
UH's Street View imagery will assist visitors in identifying campus landmarks including the University Center, Robertson Stadium, M.D. Anderson Library, Cullen Performance Hall, the Welcome Center and the C.T. Bauer College of Business. It also can aid prospective students in learning more about the campus before they arrive to UH.
"We're excited that UH can now offer vivid 360-degree views of the campus to the community. Google Maps and Street View have enabled us to rapidly deploy new services that meet the needs of our students," said Diane Trippel, UH manager of web technology.
With support from Trippel and UH web technology staff members Matthew Castillo and Bill Ashley, a Google Maps team navigated the campus to capture these panoramic photos using the Street View car and a three-wheeled pedicab with a camera system on top, called the Street View trike.
"As a proud UH alumna, it's nice knowing Google is sharing images of Robertson Stadium and other great campus locations that offer an up close and personal view that most of us don't often get to see," Trippel said.
Google Maps' UH imagery can be accessed by searching for "University of Houston" on Google Maps, and then either zooming in to the lowest level or dragging the orange "Pegman" icon onto an area of the map outlined in blue. The imagery can also be found on the online campus map located on the university's web page.  According to Trippel, these new street-level images on campus paths and walkways complement the university's efforts to make the grounds more accessible for visitors and lays the foundation for mobile services such as "way finding" (building-to-building walking directions).
To learn more about Google Street View, visit its website.
---