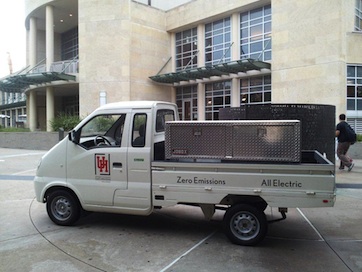 Right now, the only way to get from the University of Houston's main campus to the UH Energy Research Park (ERP) is by automobile or shuttle bus. That will ultimately change as the university plans to construct a paved pathway connecting the campus to the ERP. This corridor will accommodate pedestrians, bikes, electric shuttles and service vehicles.
The project is being supported by a Transportation Investments Generating Economic Recovery (TIGER) IV grant from the U.S. Department of Transportation. The $15 million grant was awarded to the city of Houston to build additional sidewalks, bike lanes and off-street paths in the community. The UH-ERP trail is just one of several local projects that are in the planning stages.
UH is working with the Houston Parks and Recreation department and Harris County Flood Control District on the UH-ERP trail. The 0.6 mile pathway will run from the intersection of Calhoun Road/Martin Luther King Boulevard and Wheeler Avenue (across from UH's College of Optometry) to the ERP. It will extend along university-owned undeveloped property behind the ERP along Brays Bayou. The trail itself will be 22-feet wide and will have designated lanes for pedestrians, bikes and small service carts. To view the trail's route, click here.
Tentatively, preliminary design of the UH-ERP trail will begin in August. A construction start date is still to be determined.
"We're very serious about the development of ERP," said Sean York, UH's
director of real estate. "This is one way that we can connect it to the university's main campus. As the park grows, more faculty, staff and students will use its resources for work or classes. This trail will provide everyone with an accessible route."
Once complete, the trail would accommodate a proposed electric shuttle service (see image below) for faculty, staff and students, York added.
In June, the U.S. Department of Transportation awarded nearly $500 million in TIGER Grants that will support 47 projects across the country. To learn more about the TIGER program or to view a list of grant recipients, visit http://www.dot.gov/tiger/.
---