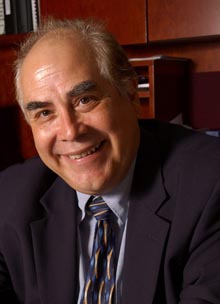 University of Houston System Chancellor Renu Khator on Friday recommended the selection of William V. Flores for the position of president of the University of Houston-Downtown, a public, liberal arts university in the UH System and the most diverse of its kind in the western United States.

Flores, deputy secretary of the New Mexico higher education department and a former provost of New Mexico State University, will succeed Max Castillo, who will step down as president of UH-Downtown on July 31.

The appointment of Flores is subject to approval by the UH System Board of Regents. The board will vote on the recommendation at its meeting on June 5.

 "We are very fortunate to have found a leader of Dr. Flores' caliber who is an excellent fit with the vision and mission of UH-Downtown," Khator said. "He has a depth of experience in every category of specific interest for us."

Regents Welcome Wilson, Jim Wise and Jacob Monty had an opportunity to meet and interview Flores.  As Regent Monty observed, "This is an exciting day for  UHD, as we have found the right fit for the giant shoes of President Max Castillo. We are excited that Dr. William Flores has accepted  this position.  He brings a wealth of  experience in higher education to our UHD leadership. With Dr. Flores at the helm, UHD will reach even higher."

Flores, who will take office July 1, if confirmed, has broad experience in fundraising and community engagement.

"I am a firm believer that a successful president of any public university today must be visionary, with good communication skills," Flores said in his letter of application. "A president must be able to work with a wide variety of constituencies and be successful in building partnerships.

"Urban universities, such as the University of Houston-Downtown, must not only lead the university, but also engage the university with its surrounding community. University campuses are vibrant centers of art and intellectual growth, but they have an opportunity and an obligation to take part in the city in which they are a part."

Flores previously was interim president and provost at New Mexico State University, following a six-year stint as executive vice president and provost there.

From 1996 to 2001, Flores was a dean and professor of political science at Cal State Northridge. He previously taught at Cal State Fresno, where he was associate dean of the School of Social Sciences and, prior to that, chairman of the department of Chicano-Latin American Studies. He also has taught at Stanford, Santa Clara University and Cal State Hayward. He received a Rockefeller Fellowship for Scholarship in the Humanities in 1993 and spent a year as a visiting scholar at the Center for Puerto Rican Studies at Hunter College, City University of New York.

He has a Ph.D. from Stanford University in social theory and public policy and a master's degree in political science from Stanford. He graduated cum laude from the University of California at Los Angeles with a bachelor's degree in political science.

Flores has directed several community service programs, including having served as associate director and interim executive director of Gardner Community Health Center in San Jose, Calif., 1981-84. He has served as co-editor of "Latino Cultural Citizenship: Claiming Identity, Space and Rights," published by Beacon Press. He has also served on the board of the Pacific Chapter of the U.S.-Mexico Chamber of Commerce and has been active in numerous community organizations.
---