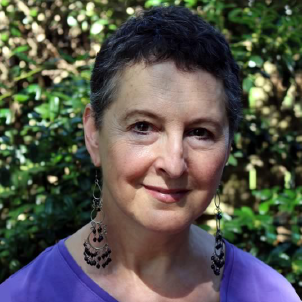 PhD, Princeton University
MFA, Princeton University
BA, Sarah Lawrence College

Professor Steinhoff specializes in Medieval and especially Gothic Art. Her research generally concentrates on Italian 14th century painting, although she also maintains an active interest in medieval illuminated manuscripts. Her previous work and ongoing interests include the politicization of religious imagery and artistic style to convey social and political ideals during the 14th century. Currently, her principal research focus is on the ways grieving was gendered, represented, and performed in Italian Gothic visual and other cultural media, including vernacular religious texts, conduct literature, legal statutes sermons, and religious plays. Her publications include Art as Politics in Medieval and Renaissance Siena (with Timothy B. Smith; Ashgate Press, 2012); "Weeping Women: Social Roles and Images in 14th century Tuscany" (Crying in the Middle Ages: The Tears of History. E. Gertsman, ed., Routledge Press, 2012), and Sienese Painting After the Black Death: Artistic Pluralism, Politics, and the New Art Market (Cambridge University Press, 2007). She has also published articles in Renaissance Studies, Zeitschrift fur Kunstgeschichte, and The Art Bulletin and presented papers at regional, national, and international conferences, including the College Art Association, the International Congress on Medieval Studies at Kalamazoo, the International Medieval Congress, Leeds (UK), and the Renaissance Society of America. Her essay "Gendering Prayer in Trecento Florence: Tomb Paintings in Santa Croce and San Remigio" is forthcoming in Picturing Death 1200-1600, Stephen Perkinson and Noa Turrell, eds, Brill (2018).
Professor Steinhoff is the founder and continuing member of the Andrew Ladis Memorial Trecento Forum and the Bi-Annual Conference, which she will be hosting with the support of the Museum of Fine Arts, Houston and the Kathrine G. McGovern College of the Arts in Fall 2018. She is also a member of the 14th Century Society, the College Art Association, the International Center of Medieval Art, the Italian Art Society, Society of the History of Emotions, and the Society for the Study of Early Modern Women. She has been the recipient of an NEH Summer Stipend, a Fulbright/Italian Government Grant, Harvard University-Danforth Center Teaching Award, and several research grants from the University of Houston.
Professor Steinhoff teaches courses on Medieval Art, Illuminated Manuscripts, and Italian Gothic Art, and a Graduate seminar on Medieval Historiography and Current Methodologies. She has also taught two courses that involved creating exhibitions of medieval illuminated manuscripts held in the MD Anderson Library at UH as well as accompanying catalogs: "Lustre: Spiritual Treasures & Sensory Pleasures. Medieval Illuminated Manuscripts in Houston Collections" (2005–2006), and "Sacra et Profana: Music in Medieval Manuscripts," (2012–2013), and plans to do additional exhibition courses in the future.