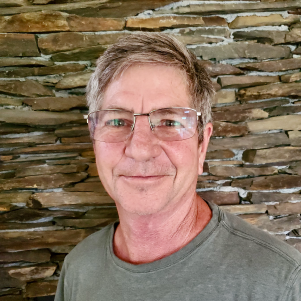 MFA, University of Houston
BA, University of California, Santa Barbara
Since moving to Houston in 1982, Kittelson has participated in both traditional exhibits and public projects. His sculptures have ranged from early site-specific works using discarded materials—"Stegosaurus" (1986) and "Mindless Competition" (1988)—to numerous community based projects: "Travisaurus" (1992), "Douglass Elementary"(1996) and Cunningham Elementary (1995). His more recent accomplishments include large-scale commissions at prominent locations throughout Houston and beyond: "Cardinal Column" at Lamar University (2021), "You Are Here" at Magnolia Transit Center (2014) "Take Off" at Hobby Airport (2010), "Heritage Lanterns" (2005) and "Bayou Beacons" (2001).
Kittelson's expressive use of materials and witty sense of subject matter have carried over into his recent gallery exhibitions "On The Line" (2017) and "Falling Skies" (2016) at Devin Borden Gallery. "Through the Lunchbox" (2014) at One Allen Center, Houston. Kittelson's work has also been exhibited in international exhibitions: Texas Eclectics, at the Macedonian Museum of Contemporary Art in Thessaloniki, Greece (2018). Amistad, Texas Art In Peru, Museum Del Arte Nacionale, Lima Peru (2007). "Art Houston" at the Shanghai Museum of Fine Art, Shanghai China (2006)