Faculty Quick Start Guide
Your CougarNet Login
Your CougarNet account provides access to many services on campus including UHSecure Wi-Fi, Software Downloads and AccessUH. You can You can lookup your CougarNet userid and reset your password.
Two Factor Authentication (2FA)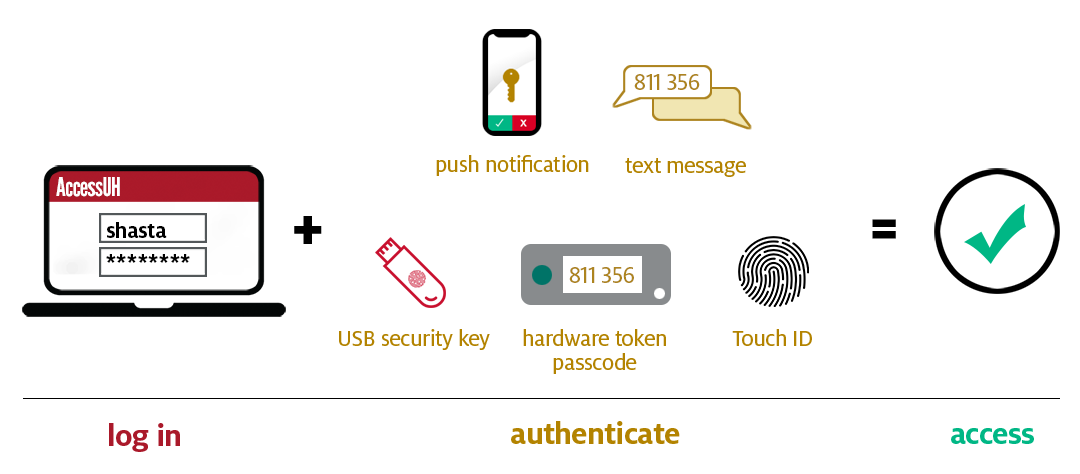 2FA adds an extra step when you log into your account to prevent unauthorized access. You log in with something you know (your password) and something you have (your phone). 2FA is the most effective way to secure our computer accounts and it is easy to use!  If you've ever received a text message to confirm your identity when you log into an online retailer or banking site, you've used 2FA. It allows you to confirm your identity by text message, phone call, mobile application, and other methods.
Logging into AccessUH
AccessUH is your gateway to the University of Houston's information and computing resources. Log into AccessUH with your CougarNet User ID and password and you will get immediate access to other critical systems that you use on a daily basis including myUH , Blackboard, parking, housing and many more.
Hyflex Classroom Support
Since Fall 2020, UIT has upgraded the technology in many classrooms to accommodate HyFlex teaching. HyFlex classrooms provide technology for in person, face to face teaching and as well as options for simultaneous online instruction. The design of classrooms and the technology standards are an integral part of HyFlex instruction. This site will provide information about HyFlex classrooms equipment, technical support contact information, and other resources available.
Learn more about HyFlex Classroom Support >>
UH Go Mobile App
UH Go is the official mobile app for the University of Houston. Here, you will find university information and easy access to services from the convenience of your mobile device, including IT support on the go. With UH Go, you can:
Contact our UIT support center
Search our GetHelp knowledgebase for IT solutions
Reset your CougarNet password
View IT service alerts ocurring on campus
Check on IT service status and more
UH Go can be downloaded to your mobile device today: iOS | Android OS.
Getting the Most out of Wi-Fi
UH provides you with high-speed Wi-Fi access in the classrooms, residence halls, the libraries and throughout most of the campus. UIT recommends connecting to UHSecure wireless network. UIT also offers tips for optimizing your on-campus Wi-Fi connections.
Learn how to improve your Wi-Fi experience >>
Easily record and archive your lectures
Mediasite is a lecture-capture system that allows professors and instructors to record everything they say, do and present in their classrooms.
Find out more about Mediasite »
Download software
UIT offers multiple options to easily download software such as MicroSoft Office, UH VPN and virus scan. Log in with your CougarNet ID.
Learn more about free/discounted software »
Skype for Business
Skype for Business (SFB) is a communications application that provides phone service, instant messaging, desktop videoconferencing and desktop collaboration similar to Go-To Meeting. SFB works in conjunction with Microsoft Exchange to allow faculty to schedule online meetings and desktop videoconferencing with peers both at UH and at other institutions.
Learn more about Skype for Business »
Get classroom and office equipment and support
Find information about general purpose classroom support or how to borrow multimedia equipment for your lectures.
Learn more about UIT facilities and equipment resources »
Contact Us
We are here to support you! We offer walk-up support in the Tech Commons, phone, email and live hat support as well. Learn more about how you can reach us.
You can also follow UIT on social media for UIT news and and service-related announcements:
---
Learn More:  CougarNet ID
CougarNet is the system that governs access to computers, applications and email at UH.
---
Helpful Links