MEET THE 2013 HOBBY FELLOWS
Jose Guzman, Charles Prothro, Estefani Jimenez, Isabel Soto, Sarah Aimadeddine, Hazel Thakkar, Krystafer Redden and Matthew Conner
View the 2013 Hobby Fellows Scrapbook.
Read an article about the Hobby Fellows by Marisa Ramirez.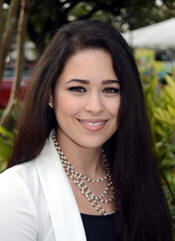 Sarah Aimadeddine was a University of Houston senior pursuing double degrees in political science and economics. Born to parents from Morocco, she is a first generation American.
Sarah  gained  government  experience  as  an  intern  in  Congressman  John  Culberson's district office through the HCPP's Civic Houston Internship Program (CHIP). She also volunteered in Sarah Davis's campaign for state representative.
Working as a Hobby Fellow in Representative Jim Murphy's office opened Sarah's eyes to the many nuances of public service. Serving as the communications director, she led the office's social media activities and online communication including the e‐newsletters sent to constituents. Sarah worked on several bills including House Bill (HB) 884, which dealt with the disposition of property by police departments, and HB 966, which addressed the current residency requirements to vote. She also attended numerous forums and events on topics such as the potential expansion of Medicaid, the Affordable Care Act and veteran affairs.
Matthew Conner was a University of Houston senior majoring in political science with a minor in national security studies during his internship.
Matthew's prior experience includes working as a Civic Houston intern in the district office of Congressman John Culberson and as a local precinct chair. He also managed a city council campaign and has volunteered and worked for numerous other campaigns.
As a legislative assistant in the office of Representative Bill Callegari, Matthew was able to learn more about energy and fiscal policy by attending legislative hearings and lobbyist sponsored events and by conducting research. One of Matthew's favorite bills was HB 841, which sought to establish a Desalination Research Center at the University of Houston in partnership with UT‐El Paso and UT‐Brownville to develop desalinization technology.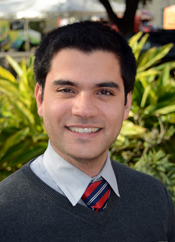 José Guzman participated in Hobby Fellows as a post‐baccalaureate student, having graduated from the University of Houston with a degree in political science and a minor in philosophy in December 2012.
José worked as a Hobby Center for Public Policy Civic Houston intern in the office of the Mexican Consulate in Houston in the spring of 2012 and with the World Affairs Council of Houston the following semester.
José served as the scheduler for Representative Garnet Coleman while working on legislative research and meeting with constituents and lobbyists. He was assigned to the areas of higher education, LGBT rights, housing, transportation and the environment. He learned about the legislative process by working on numerous bills from start to finish, including HB 3324, which places identity expression hate crimes in the hate crime statute of the Texas Penal Code; HB 3829 dealing with the pension system; and HB 3768, which changes a section of the Tax Code addressing property value assessments.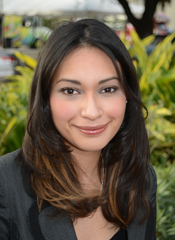 Estefani Jimenez  was  a  senior  at  the  University  of  Houston  double  majoring  in  political science and environmental science.
Prior to her selection as a Hobby Fellow, Estefani worked in the office of State Senator Mario Gallegos as a Civic Houston intern. 
Estefani's interest  in  the  environment  originated  from  growing  up  in  Pasadena,  Texas where she observed the impact of oil refineries in her community. While working in Representative Ana Hernandez Luna's office, Estefani was thrilled to have the chance to research environmental issues and was often asked to "translate" scientific jargon found in various publications and legislative documents.  She also worked on research relating to public education and health care, and regularly met with lobbyists and constituents. Estefani particularly enjoyed working on HB 495 (also known as Henda's law), relating to the requirement that  certain  health  benefit  plans  provide  coverage  for  supplemental breast cancer screening.
Charles Prothro was a University of Houston senior majoring in political science while interning in the Texas Capitol. 
After serving 8 years in the Marine Corps, Charles entered the political world looking for a new way to serve the public. He volunteered on numerous campaigns and was a Civic Houston Internship Program (CHIP) intern with Congressman Pete Olson's office in the spring of 2012. Charles also worked part‐time for Houston City Council Member Helena Brown. 
As a legislative assistant in Representative Sarah Davis's office, Charles worked with some of the most highly coveted committees—Public Health, Calendars and Appropriations— with public health as his primary research assignment.  He routinely met with constituents and lobbyists, and attended events hosted by a range of organizations including Equality Texas  and  the  NRA.  Charles  also  met  a  number  of  leaders  and  celebrities  including Kenneth Starr, former federal prosecutor and current president of Baylor, Nobel Laureate recipient Dr. Robert Curl and country singer Jack Ingram.
Krystafer Redden was a senior Terry Foundation Scholar in the Honors College at the University of Houston pursuing double degrees in political science and history, with minors in literature and Phronesis.
Krystafer was previously appointed by Governor Perry to the Texas Higher Education Coordinating Board's Undergraduate  Education  Advisory  Committee.  He also founded the HOPE Collaborative, a non‐profit organization offering bilingual information, assistance, and access to higher education opportunities for at‐risk and marginalized populations in Harris County.
As the communications director for Representative Jessica Farrar, Krystafer managed social media, wrote media releases, issued statements, fielded media inquiries and prepared press clipping reviews. His assigned research areas included defense, veterans affairs, higher education, public health and culture/tourism. Krystafer also had the opportunity to work with the State Affairs and Judiciary & Criminal Jurisprudence Committees.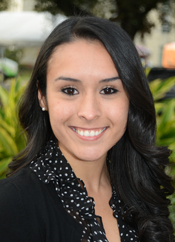 Isabel Soto was a University of Houston senior majoring in political science with a minor in English when working during the 83rd legislative session. 
Isabel  gained  previous  experience  while  working  as  a  community  and  government relations intern for Air Products & Chemicals and as an intern in the offices of State Representative Eddie Lucio III and Senator Eddie Lucio, Jr. 
As  a legislative assistant for Representative Armando Walle, Isabel worked extensively with the Select Committee on Federalism and Fiscal Responsibility and the Land and Resource Management Committee. She conducted research on topics such as health care, women's reproductive rights and education. She also worked on amendments including ones proposing to require the Comptroller to provide a report on the current state debt and to require the Ethics Commission Report to detail the unpaid registration fees and estimated fiscal impact of the failure to file lobbyist reports.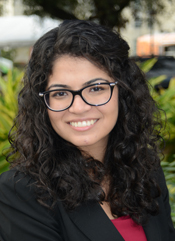 Hazel Thakkar was a University of Houston senior double majoring in economics and political science with a minor in Phronesis while working as a Hobby Fellow. 
Hazel's experience includes a fellowship with Organizing for America and volunteerism helping low‐income individuals with their court cases through the Houston Volunteers Lawyers Program.
Working for Representative Carol Alvarado, Hazel worked with the Criminal Jurisprudence and Transparency Committees. She researched a range of issues including education, cancer  prevention,  the  state  lottery and  electronic  voter  registration  and  was  also appointed to lead the office's research on mental health. As an aspiring attorney, Hazel was excited to have the chance to meet Texas Supreme Court Chief Justice Wallace Jefferson.