College Access Loan (CAL)
About the Loan
Interest Rate and Fees
Loan Amount
Application for Loans
Offer of Loans
Disbursement of Loans
Maintenance of Loans
Repayment of Loans
About the Loan
The College Access Loan Program (CAL) provides alternative educational loans to students who are Texas residents and are not able to meet their Cost of Attendance (COA). The CAL may be used to cover part or all of the student's Expected Family Contribution (EFC). The amount of federal aid that a student is eligible for (regardless of whether actually accepted) must be deducted from the COA in determining the CAL loan amount.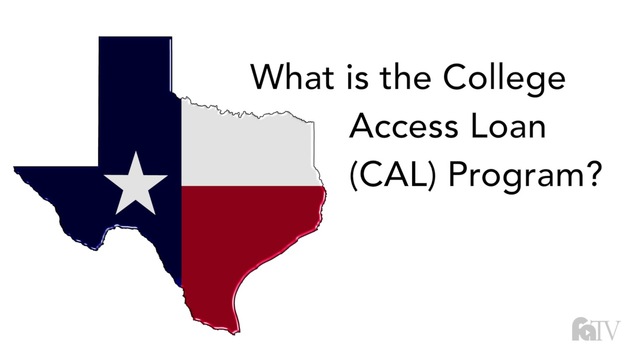 Interest Rate and Fees
The interest rate is a fixed annual rate of 5.3 percent and is not capitalized. Effective May 1, 2019, College Access Loans will carry a fixed interest rate of 5.2 percent.
Loan Amount
Students may borrow no less than $100, and up to the cost of attendance minus any other financial aid.
Application for Loans
Students may complete an application at hhloans.com.
Eligibility Requirements
Students must:
Be a Texas resident; and
Be enrolled at least half-time in:
° a course of study leading to an associate, bachelor's, graduate or higher degree;
Be registered with Selective Service, or be exempt (see TEC, 51.9095);
Have insufficient resources to finance his or her education;
Meet Satisfactory Academic Progress requirements;
Receive a favorable credit evaluation or provide a cosigner who has good credit standing and meets other requirements.

Not be more than 30 days delinquent on an obligation to pay child support (see

TFC, 231.006

)

 
Offer of Loans
Student's account will be reviewed for eligibility prior to awarding. Once reviewed, student will receive a CAL email notification from the Office of Scholarships and Financial Aid. If additional information is needed, student will be notified via email of additional documentation required. CAL will not be awarded until required documentation is received and approved.

Disbursement of Loans
Disbursement dates are set by the Texas Higher Education Coordinating Board. Once the student has completed their MPN and has accepted the terms and conditions of the loan, the student may log in to the HHLoans Online website to view disbursement dates.
Once the loan has been disbursed, the funds will be applied to the student's account to cover any charges. If a credit balance is created, funds will be refunded to the student's BankMobile refund preference.
Maintenance of Loans
To maintain eligibility for future disbursements, the student must:
Be enrolled at least half-time in:
° a course of study leading to an associate, bachelor's, graduate or higher degree;
Meet Satisfactory Academic Progress requirements.
Repayment of Loans
Loans have a six-month grace period from the date a borrower ceases to be continuously enrolled as at least a half-time student at an eligible institution;
Principal balances under $30,000 have up to a ten-year repayment period with minimum monthly payments of $50;
Principal balances of $30,000 or more have a repayment period of up to 20 years;
The loan will not be sold to another lender;
Postponements of loan repayment and income-sensitive or graduated repayment schedules are available.