24th Annual Table Talk Luncheon
Thursday, February 25, 2021
Virtual Celebration
11:30 a.m.  Reception | 12 noon to 1:30 p.m.  Conversations 
TT Invitation | 2021 Conversationalists
Become an Underwriter/Buy Tickets | Underwriter Benefits & Form
24th Annual Table Talk Luncheon
Co-Chairs: June Deadrick & Hon. Jessica Farrar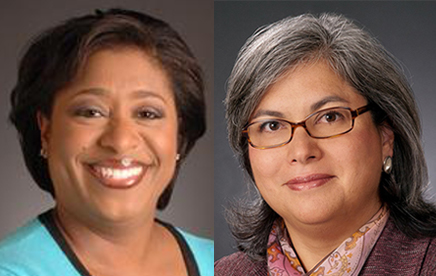 Converse. Share. Learn.
Table Talk is a fascinating combination of conversations over lunch, led by dynamic women of various cultures, professions and experience at each table. Table Talk benefits the Women's, Gender & Sexuality Studies program at the University of Houston. The WGSS program combines theoretical and empirical studies to give students the tools to analyze the gender dynamics of the past and present and to build a fair future.
Host Committee
Rhonda Arnold, Deirdre Barrett, Divya Brown, Libby Cheney, Carolyn Colias, Cheryl Creuzot, Melissa Edwards, Caroline Fant, Samina Farid, Eleanor Gilbane, Melanie Gray, MaryScott Hagle, Leisa Holland Nelson, Chinhui Juhn, Mandy Kao, Sippi Khurana, M.D., Brenda Mainwaring, Lynn Mathre, Amanda McMillian, Sherry Merfish, Terry Morales, Sharon Michael Owens, Leila Perrin, Amy Pierce, Beverly Robinson, Sally Russ,
Angela Shippy, M.D., Carey C. Shuart, Sannam Warrender, Aimee Woodall
FWS Board
Carmen Peña Abrego (Vice President), Danielle Bartz (Treasurer), Patricia Cabrera, Elizabeth Chiao, M.D., Stefani Crowe, Haydeh Davoudi, June Deadrick, Caroline Fant, Veronica Chapa Gorczynski, Elizabeth Gregory, Ph.D., Patricia Hunt Holmes, J.D., Ph.D., Eliza Horn, Melenda Jeter, M.D., Swati Narayan, Chau Nguyen, Tanya B. Pal (President), Lyndsey Ray, Guillermo de los Reyes, Joy Sewing, Shreela Sharma, Ph.D., Carey C. Shuart, Kendall Toarmina, Ashley Turner, Sannam Warrender, Leandra Zarnow, Ph.D.
Advisory Council
Sue Payne (Chair), Dina Alsowayel, Ph.D., Leah Barton, Annette Bracey, Lemar Brown, Eleanor Gilbane, MaryScott Hagle, Geordie Hrdlicka, Mandy Kao, Nina Andrews Karohl, Shannon Langrand, GinRu Lee, Susana Monteverde, Kathryn Peek, Ph.D., Beverly Robinson, Rebecca Rush, Yava Scott,
Angela Shippy, M.D., Carey Shuart, MaryRoss Taylor, Patricia Gardner Young