Neuropsychologist awarded the University's highest faculty honor
H. Julia Hannay directed world-renowned clinical neuropsychology training program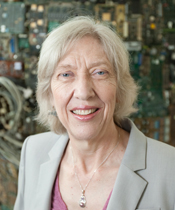 H. Julia Hannay

Moores Professor of Psychology
H. Julia Hannay, Moores Professor of Psychology, has earned the 2012 Esther Farfel Award, a symbol of overall career excellence and the highest honor the University of Houston bestows on a faculty member. The annual award carries a cash prize of $10,000.
"The Farfel Award is a high honor recognizing the many roles that we may have as professionals, as mentors, teachers, scholar/researchers, clinicians and administrators reaching out to the local, national and international communities to different degrees in our varied careers," Hannay said. "The UH has afforded me the opportunity to strive for excellence in those roles in the multicultural environment that is so important to our future."
Dr. Hannay is the fifth woman to be recognized with the honor since it was first awarded in 1979. She is a clinical neuropsychologist and a pioneer in the field of experimental neuropsychology.
"What I have always found so remarkable about Julia as a scholar is the breadth of her scholarship," said David J. Francis, a Hugh Roy and Lillie Cranz Cullen Distinguished Professor, Chair of the Department of Psychology and the 2008 Farfel Award honoree. "She has leveraged her great intellect, curiosity, and mastery of basic and applied experimental methods in psychology to advance our understanding of the brain and its role in human cognition from consciousness to complex human abilities, and how these develop and become disordered by injury and disease across the lifespan. Julia is a truly unique and remarkable colleague and we are very fortunate to have her in the Department of Psychology at the University of Houston."
The author of a test of memory and a textbook on experimental psychology, Dr. Hannay is also the co-author of the latest release of a textbook used by many as the reference book on neuropsychological assessment. Her research includes studying the neuropsychological consequences of traumatic brain injuries of all types, including stroke, spina bifida, blunt trauma and penetrating injuries. She also has derived paradigms for studying cerebral specialization and assessing cognitive functions in normally developing children and adults.
"Dr. Hannay is a household name in our field. She has been one of the leaders of our field for the past three decades and has achieved all of the major successes – being elected president of the International Neuropsychological Society, leading the landmark workshop that established training credentials in our field (the Houston Conference in 1997) and contributing to the book that is the 'bible' in our field," said Daniel Tranel, a professor in the department of neurology at the University of Iowa. Hannay is also a fellow of the American Psychological Association.
Dr. Hannay recognizes mentoring as one of her greatest professional achievements, having chaired many master's theses and doctoral dissertations in the years she has been at UH.
"Dr. Hannay's program development and mentoring students stand out as two of her greatest legacies," said Linda Ewing-Cobbs, a UH graduate and professor in the department of pediatrics and director of the Dan L. Duncan Children's Neurodevelopmental Clinic in the Children's Learning Institute at the University of Texas Health Science Center at Houston. "The highly nationally ranked clinical neuropsychology track of the clinical psychology program at the UH has benefited greatly from this legacy."
Associate chair of the Department of Psychology in the College of Liberal Arts and Social Sciences, Dr. Hannay also has been adjunct professor at the Baylor College of Medicine with privileges at Ben Taub General Hospital in the Department of Neurosurgery since 1988.
Dr. Hannay directed the prestigious clinical neuropsychology training program at UH from 1987- 2010, widely identified as a model for specialty training in psychology," said Jack M. Fletcher, Hugh Roy and Lillie Cranz Cullen Distinguished Professor of Psychology. "Dr. Hannay's efforts at teaching and training could have reduced her research productivity, but she has not compromised in her pursuit of excellence. Dr. Hannay has brought major recognition to research and training at UH."
One of Dr. Hannay's former program students, Kimberly Andrews Epsy, now vice president for research and dean of the graduate school at the University of Oregon, said, "Julia is an outstanding scholar – the true 'triple threat' – an outstanding researcher, teacher and someone who is passionately engaged in the local, national and international communities.
"Julia recognized where clinical training trends were going, established relationships all across the Texas Medical Center for partnerships in research and training, and focused on scientific research as the base. Her international standing and dogged determination made these connections possible. Today, the UH program is world recognized as the premier program in clinical neuropsychological training. I am honored to have been a student in the program, and the excellent training I received is the basis for my own scientific accomplishments."
~ Melissa Carroll