Psychology faculty participated in the college's faculty research & creative arts reception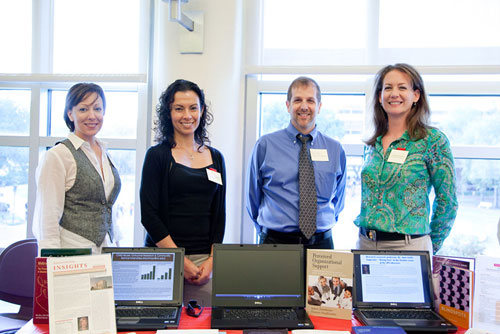 The first event highlighting the research profile and creativity of the College of Liberal Arts & Social Sciences faculty was held in the Rockwell Pavilion of the M.D. Anderson Library on November 2nd, 2011. The event was hosted by the College's Dean, John Roberts who delivered a welcome speech to the more than 100 people attending the event. President and Chancellor Renu Khator and Vice Chancellor and Vice President for Research and Tech Transfer, Dr. Rathindra Bose visited the exhibits and spoke to the enthusiastic crowd.
The Psychology Department showcased the diverse and multidisciplinary research activities by PowerPoint presentation prepared for each lab and center, along with displays of first authored publications and books by faculty members from recent years. The psychology faculty proudly stood by their display, which illustrated the successful years the department has had and will continue to have.