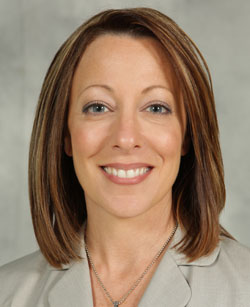 Health 1, Room 479
713-743-8611
caalfano@uh.edu
Dr. Alfano will not be reviewing graduate student applications for the 2023-2024 academic year. 
Biographical Summary
Dr. Candice Alfano is Professor of Psychology, a licensed clinical psychologist, and Director of the Sleep and Anxiety Center of Houston (SACH) at the University of Houston. She is also a Fellow of the HEALTH Research Institute at UH. Dr. Alfano received her Ph.D. in Clinical Psychology from the University of Maryland at College Park in 2005. The overarching focus of her research program is on the interactions among mental and physical health and sleep-wake processes across the life span to inform prevention and intervention efforts. She is particularly interested in studying marginalized (e.g., racial/ethnic minorities, children in foster care) and elite populations (e.g., astronauts, top athletes) and whether high quality sleep can buffer against a range of potential negative outcomes. Dr. Alfano's has served as PI or co-PI on grants from the National Institutes of Health (NIH), National Science Foundation (NSF), Department of Defense (DoD) and National Aeronautics and Space Administration (NASA). She has served on the scientific council of the Anxiety and Depression Association of America (ADAA), the board of directors for the Society for Behavioral Sleep Medicine (SBSM), and as Associate Editor for Journal of Anxiety Disorders. She has published more than 100 scientific papers, chapters, and books.
Recent Research Funding
National Aeronautics and Space Administration (NASA): Characterization of Psychological Risk, Overlap with Physical Health, and Associated Performance in Isolated, Confined, Extreme Environments (PI: Alfano)
National Science Foundation (NSF): Risk and Resilience Post-Hurricane Harvey: A Longitudinal Examination of Pre-Disaster Sleep in Youth (co-PIs: Palmer & Alfano)
National Institute of Mental Health (NIMH):  Sleep, Emotional Processing, and Risk for Affective Disorders in Children (PI: Alfano)
Teaching
Adult Interventions
Child Interventions
The Behavior of Sleep
Clinical Supervision
Laboratory
Sleep and Anxiety Center of Houston
Selected Publications
Alfano, C.A., Bower, J., Harvey, A. Sharp, C.S., Beidel, D.C. & Palmer, C.A. (2020). Sleep Restriction Alters Children's Positive Emotional Responses but Effects are Moderated by Anxiety. Journal of Child Psychology and Psychiatry.   
Walker, R.L., Talavera, D.T., Nomamiukor, F., Madubata, I., J., Alfano, C.A. & Vujanovic, A.A. (2019). Sleep-related problems and suicide behavior and ideation among Black and White trauma-exposed psychiatric inpatients. Comprehensive Psychiatry, 91, 22-28. 
Palmer, C. & Alfano, C.A. (2019). Anxiety Modifies the Emotional Effects of Sleep Loss. Current Opinion in Psychology, 34, 100-104.
Bower, J.L., McLaughlin, M., Connaboy, C. Simpson, R. & Alfano, C.A. (2019). Factor Structure and Validation of the Mental Health Checklist (MHCL) for use in Isolated, Confined and Extreme Environments. Acta Astronautica, 61, 405-414
Alfano, C.A. (2018). (Re)Conceptualizing sleep among children with anxiety disorders: where to next? Clinical Child and Family Psychology Review, 21, 482–499.
Alfano, C.A., Bower, J., Cowie, J., Lau, S., & Simpson, R. (2018). Psychological Responses during Long-Duration Space Exploration: Using an Emotion Regulation Framework to Evaluate Risk. Acta Astronautica, 142, 289-299.
Palmer, C. & Alfano, C.A. (2017). Sleep and Emotion Regulation: An Organizing, Integrative Review.  Sleep Medicine Reviews, 31, 6-16.
Reddy, R., Palmer, C.A., Jackson, C., Farris, S.G., & Alfano, C.A. (2017). The Effect of Sleep Restriction versus Idealized Sleep on Emotional Experience, Reactivity, and Regulation in Healthy Adolescents.  Journal of Sleep Research, 26, 516-525.
Reynolds, K. & Alfano, C.A. (2016). Childhood Bedtime Problems Predict Adolescent Internalizing Symptoms Through Emotional Reactivity. Journal of Pediatric Psychology, 41, 971-82.