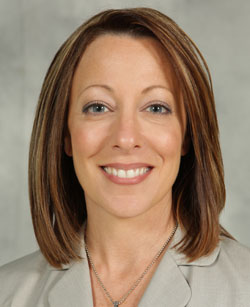 Health 1, Room 479
713-743-8611
caalfano@uh.edu
Dr. Alfano will be reviewing graduate student applications for the 2020-2021 academic year. Application deadline is Dec 1, 2019. Please see Student Admissions, Outcomes, and Other Data for details.
Biographical Summary
Dr. Candice Alfano is Professor of Psychology, a licensed clinical psychologist, and Director of the Sleep and Anxiety Center of Houston (SACH) at the University of Houston. She received her Ph.D. in Clinical Psychology from the University of Maryland at College Park in 2005. Dr. Alfano's research program integrates several overlapping fields of study including the role of sleep-wake processes in the pathogenesis of psychopathology, especially anxiety disorders, and the development of evidence-based interventions for children and adolescents. Her research has been funded by the National Institute of Mental Health (NIMH), the National Institute of Child Health and Human Development (NICHD), and the Department of Defense (DoD) and the National Aeronautics and Space Administration (NASA). Dr. Alfano has served on the scientific council of the Anxiety and Depression Association of America (ADAA), the board of directors for the Society for Behavioral Sleep Medicine (SBSM), and as Associate Editor for Journal of Anxiety Disorders. She has published more than 70 scientific papers, chapters, and books, including the co-edited the book, Comprehensive Evidence-based Interventions for Children and Adolescents (2014; John Wiley & Sons).
Recent Research Funding
National Institute of Mental Health (NIMH): Sleep, Emotional Processing, and Risk for Affective Disorders in Children (PI: Alfano)
Department of Defense, U.S. Army Medical Research and Material Command (USAMRMC): When parents go to war: Psychosocial Adjustment among the Families of Deployed OEF/OIF Service Members (Co-PIs: Beidel, Alfano & Higa)
National Institute of Child Health and Human Development (NICHD): Ready, Set, Snooze! A web-delivered, prescriptive intervention for pediatric sleep problems (Co-PIs: Alfano & Spitalnick)          
Teaching
Clinical Interventions
Clinical Child Interventions
Seminar in Sleep and Sleep Disorders
Seminar in Anxiety Disorders
Clinical Supervision
Laboratory
Selected Publications
Palmer, C. & Alfano, C.A. (2017). Sleep and Emotion Regulation: An Organizing, Integrative Review. Sleep Medicine Reviews, 31, 6-16.
Reddy, R., Palmer, C.A., Jackson, C., Farris, S.G., & Alfano, C.A. (2017). The Effect of Sleep Restriction versus Idealized Sleep on Emotional Experience, Reactivity, and Regulation in Healthy Adolescents. Journal of Sleep Research, 26, 516-525.
Alfano, C.A., Lau, S., Balderas, J., Bunnell, B., & Beidel, D.C. (2016). The impact of military deployment on children: placing developmental risk in context. Clinical Psychology Review, 43, 17-29.
Clementi, M.A., Alfano, C.A., Holly, L.S. & Pina, A.A. (2016). Sleep-related outcomes following early intervention for childhood anxiety. Journal of Child and Family Studies, 25, 3270-3277.
Reynolds, K. & Alfano, C.A. (2016). Childhood Bedtime Problems Predict Adolescent Internalizing Symptoms Through Emotional Reactivity. Journal of Pediatric Psychology, 41, 971-82.
McMakin, D.L. & Alfano, C.A. (2015). Sleep and Anxiety from Childhood to Early Adolescence. Current Opinion in Psychiatry, 28, 483-489.
Alfano, C.A. Patriquin, M. & De Los Reyes, A. (2015). Subjective - Objective Sleep Comparisons and Discrepancies among Clinically-Anxious and Healthy Children. Journal of Abnormal Child Psychology, 43, 1343-1353.
Patriquin, M., Mellman, T., Glaze. D. & Alfano, C.A. (2014). Polysomnographic sleep characteristics of generally-anxious and healthy children assessed in the home environment. Journal of Affective Disorders, 161, 79-83.
Alfano, C.A., Smith, V., Reynolds, K., Reddy, R. & Dougherty, L. (2013). The Parent-Child Sleep Interactions Scale (PSIS) for Preschoolers: Factor Structure and Initial Psychometric Properties. Journal of Clinical Sleep Medicine, 9, 1153-60.
Alfano, C.A. (2012). Are children with 'pure' generalized anxiety disorder functionally impaired? A comparison with comorbid and healthy children. Journal of Clinical Child and Adolescent Psychology, 41, 739-745.