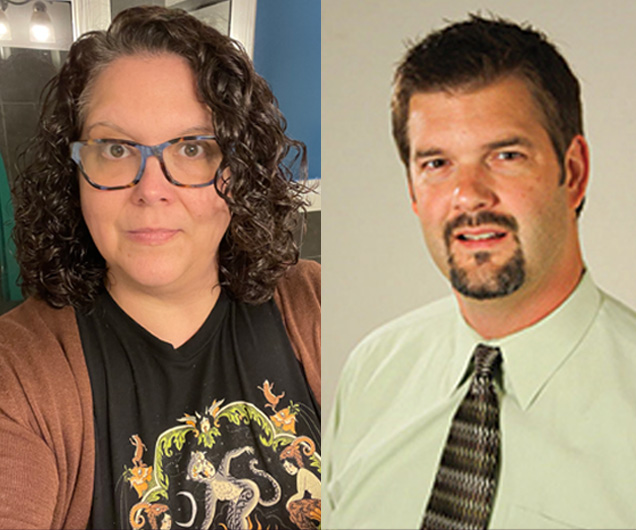 The College of Liberal Arts and Social Sciences' new internship program deals with business — but it's far from business as usual. With a focus on leadership skills and administrative training, the CLASS Dean's Administrative Internship Program is specifically catered towards mid-career professors in the college who have their eye on leadership roles.  
"I developed the CLASS Dean's Administrative Internship Program to give outstanding and dedicated mid-career faculty members an opportunity to get hands-on, college-level administrative experience," Sally Connolly, associate dean of student and faculty success, said. 
Selected faculty interns will be trained over the course of a year on how college-level administration works. Following a highly competitive application process, two professors were selected for the inaugural 2023-24 cohort: Jennifer Wingard and Kevin D. Haubrick.  
Wingard is an associate professor of rhetoric, composition and pedagogy in the department of English and a faculty affiliate to the women's studies program. Haubrick is a clinical associate professor in the department of health and human performance. 
"University success relies on strong leadership at all levels, and strong internal leaders are developed by providing real-world experiences and opportunities to existing faculty and staff," said Daniel P. O'Connor, dean, College of Liberal Arts and Social Sciences. "This program will provide leaders who will help the university advance more quickly to Top 50 status and beyond well into the future."   
Both professors will undertake one major administrative task over the course of the year and attend meetings to understand the day-to-day functions of the college. By the end of the year, faculty interns will have a deeper understanding of the University's administrative processes and procedures, from business operations and programming to academic affairs and student services.  
"It's our hope that when they return to their ranks, they will be well placed to take on senior administrative roles, either within their departments as chairs or at the college level … giving them an insight into college-level business that will enable them to flourish in their administrative careers," Connolly said.  
Ultimately, the invaluable insights gained will help faculty interns better serve students and the institution overall. 
The application process for the CLASS Dean's Administrative Internship Program will reopen in spring 2024. Interested mid-career faculty members in CLASS are encouraged to apply.